Clinton campaign calls on FBI Director James Comey to put up or shut up in email case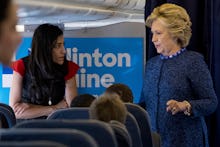 Hillary Clinton campaign chairman John Podesta released a sharply worded statement Friday afternoon responding to the bombshell dropped by FBI Director James Comey onto the presidential race just 11 days before the election, saying Comey should immediately disclose more information on the FBI's new review of information tied to Clinton's emails.
The New York Times reported the emails were discovered in the course of an investigation into sexually explicit messages allegedly sent by Anthony Weiner, the former congressman and estranged husband of Clinton aide Huma Abedin, to a 15-year-old girl in North Carolina.
Podesta called on Comey to release more information about what the FBI had uncovered. Comey declined to refer the case for prosecution in July, saying "no reasonable prosecutor" would pursue criminal charges against Clinton or her staff.
"FBI Director Comey should immediately provide the American public more information than is contained in the letter he sent to eight Republican committee chairmen," Podesta wrote, referencing the vague three-paragraph letter from Comey earlier Friday. "It is extraordinary that we would see something like this just 11 days out from a presidential election."
The response from Podesta was the first from the Clinton campaign. Shortly after the news broke Friday, Clinton appeared at a campaign rally in Cedar Rapids, Iowa, without commenting on the developments.
"The director owes it to the American people to immediately provide the full details of what he is now examining," Podesta said. "We are confident this will not produce any conclusions different from the one the FBI reached in July."