Donald Trump grabs and kisses former Miss Universe onstage in newly unearthed video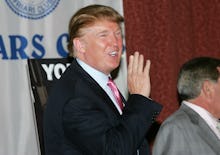 Video of Donald Trump grabbing and kissing a former Miss Universe during a 2011 speech surfaced on Friday, three weeks after his leaked boasts about sexual assault prompted a spate of women to come forward with accusations that the Republican presidential nominee had assaulted them.
In the video, reported by the Huffington Post, Trump playfully derides an obviously uncomfortable Jennifer Hawkins, whom he called onto the stage during a Sydney speech to "get even" for her allegedly turning down the chance to introduce him before his speech.
"But I did!" Hawkins, the 2004 Miss Universe, replied.
"She came tonight, she came ? came, she came, she came," Trump said, drawing laughter for his sexually charged language.
"See, so they have the same filthy minds in Australia," the future GOP candidate cracked.
Later, Trump grabbed Hawkins to kiss her before she left the stage. Her discomfort was hard to miss as she raised an arm and then asked whether she could sit back down.
Watch the video here.