Hillary Clinton calls on FBI to come clean in first comments on new email probe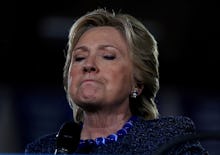 A visibly frustrated Hillary Clinton said Friday it was "incumbent" on FBI Director James Comey to provide the public with details on the focus of his agency's new review of information linked to Clinton's emails.
Speaking in Des Moines shortly after 7 p.m. Eastern — about six hours after news of the FBI review broke — the Democratic presidential nominee echoed campaign chairman John Podesta's call for Comey to be more forthcoming than he was in his cryptic letter to Congress stating "the FBI has learned of the existence of emails that appear to be pertinent to the investigation."
"The American people deserve to get the full and complete facts immediately. The director himself has said he doesn't know if the emails referenced in his letter are significant or not," Clinton said, urging the release of more information "without delay."
The former secretary of state said she was "confident" the review would reach the same conclusion as Comey reached in July, when he said "no reasonable prosecutor" would bring charges against Clinton stemming from her use of a private server during her State Department tenure.
Addressing reports that the new FBI review centered on devices used by Clinton aide Huma Abedin and her estranged husband Anthony Weiner, Clinton said, "We've heard these rumors. We don't know what to believe."
"That's why it's incumbent on the FBI to tell us what they're talking about," Clinton said.
Though publicly available information indicates the review does not focus on Clinton's home server, the reignited email controversy threatens to throw a wrench in her path to the White House.
Polls have shown Clinton with a steady lead over Republican nominee Donald Trump, although recent surveys showed Trump has regained ground following allegations of sexual assault. 
Despite the urgency of her plea to the FBI Friday night, Clinton told reporters her email imbroglio was already baked into voters' perceptions of her and therefore did not pose a mortal threat to her campaign.
"I think people a long time ago made up their minds about the emails. I think that's factored into what people think," she said.