One of the first voter fraud suspects of the 2016 election is a white, Republican woman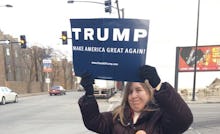 To hear Republican presidential candidate Donald Trump tell it, voter fraud in the United States is ubiquitous,  lurking around every corner in every polling station in every state. In reality, with less than two weeks to go before the 2016 election, only a handful of cases have been reported — and the suspects aren't what Election Day fearmongers would have you imagine.
On Friday, 55-year-old Iowa resident and registered Republican Terri Lynn Rote was arrested on suspicion of voting twice in October, the Des Moines Register reported. The same day, Vafalay Massaquoi, 30, was arrested near Philadelphia and faces felony charges for allegedly using fake names to fill out voter registration forms in Virginia, according to WRC.
Two women were also arrested for voter fraud-related charges in Florida on Friday, but neither case had to do with the general election: One is a 74-year-old poll station volunteer in Miami-Dade County accused of filling in votes for mayoral candidate Raquel Regalado when it was left blank on the ballots she was processing, and the other is a 33-year-old accused of fraudulently filling out registration forms on behalf of United for Care, Florida's grassroots campaign to legalize marijuana, according to the Miami Herald.
But in spite of the fact that reported instances of voter fraud leading up to the general election remain in the single digits, Trump would have his supporters believe the problem is widespread enough to cost him the presidency.
"Remember, we are competing in a rigged election," Trump said Oct. 17 during a rally in Wisconsin, according to CNN. "They even want to try and rig the election at the polling booths, where so many cities are corrupt and voter fraud is all too common."
As CNN points out, in addition to being baseless, Trump's claims are damaging for their potential to chip away at Americans' trust in the electoral process.
"This election is not being rigged," Marco Rubio, Trump's former rival for the GOP nomination, said wearily during a recent Senate debate. "There is no evidence behind any of this, so this should not continue to be said."
Trump's insistence on the reality of a "rigged election" echoes an idea that has long been used by Republican lawmakers to institute tougher voter identification laws, which have been found over and over again to actually do more to suppress black voters than they do to protect against perceived fraud.
While we'll know the end results of the 2016 election in just a few days' time, it's likely that the full impact of Trump's suggestion that the election has been corrupted won't be fully revealed for quite some time.