Ohio cheerleaders display "trail of tears" banner before game with Native American mascot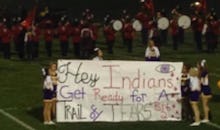 This certainly put a dim on those Friday night lights. 
An Ohio high school football game Friday between the Greenfield-McClain Tigers and the Hillsboro Indians took a turn for the worst during a pregame taunt. According to Deadspin, before the game started, cheerleaders from Greenfield-McClain unfurled a banner taunting the Hillsboro team by saying they were about to experience a "Trail of Tears Part 2." 
Hillsboro and Greenfield are both rural towns east of Cincinnati.
According to Deadspin, the game was not on Greenfield-McClain's home turf, which means they also transported the banner to display it.  
A lot of effort seems to have gone into a banner that makes light of one of the worst atrocities in U.S. history. 
After Andrew Jackson passed the Indian Removal Act of 1830, tribes of several Native American nations were forced to give up any lands they had east of the Mississippi River and migrate to an area in present-day Oklahoma. Militias escorted the Native Americans all the way along the trail. 
During the walk, about 3,500 Creek tribe members and 5,000 Cherokee died of various diseases. 
The banner comes off as even more tone-deaf given that, on Friday alone, the current ongoing clash on Native American land between police and civilian protesters over the North Dakota Access Pipeline ended in 141 arrests. 
A quick history lesson on the Trail of Tears could have easily stopped this from happening. 
And, when this is all over, we can address why the Hillsboro team is still called the Hillsboro "Indians." 
Greenfield-McClain High School and Hillsboro High School did not immediately return requests for comment.