Oregon City High School students protested after a week of several racist incidents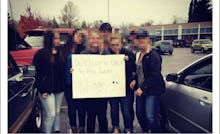 The first racist incident to rock Oregon City High School happened Monday. 
In a tweet from an account that has since been deleted, the Oregonian reported, a former student posted a picture with a group of friends, which included current students, holding a sign that said "Welcome back to the farm, nigger" and a drawing of a Ku Klux Klan member. 
The incidents piled up from there. 
On Tuesday, a member of the school's girls basketball team tweeted a picture of a note left on her door that said, "Go back to picking cotton, nigger. Black lives don't matter." 
Then, on Wednesday, a photo circulated depicting (mostly white) students holding a Photoshopped banner that said "niggers" and "We want attention" over the original sign, "Black lives matter." 
As of the 2013-2014 school year, black students comprised about 1% of the school's student body — 26 out of 2,172 students. 
Students staged a walkout Thursday protest the ongoing racially charged events at the school.
The protest took place in a courtyard that was not accessible to members of the press. 
According to the Oregonian, Michael Clark, spokesman for the Oregon City School District, said the student body planned unity events, like a candlelight vigil Thursday night, with the support of school administrators. The protest was not part of those events and was not school sanctioned. 
"While this was not a school-sanctioned event, we remain proud of the students at Oregon City High School for standing in solidarity with each other," Clark said to the Oregonian. "We commend the staff for expertly providing the space and support students needed for an outlet of strong emotion. Participants peacefully expressed their outrage in a positive manner and demonstrated their commitment to ensuring a safe and respectful learning environment for everyone."
After the protest, one student, Myra Jones, said to the media she was "upset because this is not changing anything." 
Another student told the Oregonian that student athletes were being threatened with being cut from the team if they participated in the protest. 
In another video of the protest, student agreed that the presidential election and the rise of Donald Trump have created an atmosphere where these racist incidents could occur. 
One student said the election has created a space where people are more apt to make racist and sexist comments because they know other people hold that view. 
"I feel like the reason why this is happening is because of Donald Trump being so racist and sexist," another student said. "A lot of people think it's OK to do it, so they're doing it."
According to KATU, one student involved in the original picture from Monday has since apologized for their involvement 
"I apologize to every single person this offends," the apology reads. "I screwed up by being in this picture and I know that but I can't change it now as much as I wish I could."