'Drag Race' judge Lucian Piane tweeted about showing love to ISIS and empathy to Nazis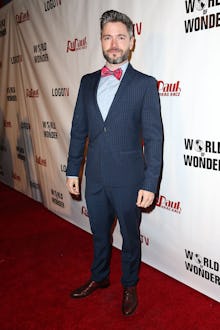 RuPaul's Drag Race guest judge Lucian Piane unleashed a series of tweets Friday asking his followers to have empathy for "the raving lunatic" Hillary Clinton and terrorist organization ISIS and the 1930s-era Nazi party.
This is not the first time Piane has made controversial statements online, and these go even further than his earlier comments. Piane, who writes and produces music for drag superstar RuPaul, stirred controversy in early October when he tweeted sentiments supporting Donald Trump's hatred for political correctness and PC culture. RuPaul did not comment at the time of Piane's first controversial tweets and did not immediately respond to a request for comment after Piane's latest tweets.
Piane's latest nonsensical rant began around 7:30 p.m., when he asked followers to show love to Democratic presidential nominee Hillary Clinton, then shared a meme about her facing prison time:
In a strange turn, Piane then tweeted about the need to love and show empathy toward ISIS, saying members of the terrorist group "are father [sic], mothers, brothers, sisters, children and people too":
When someone dared Piane to "defend the KKK next," he responded, "They need our love too. And so does Hitler and the Holocaust." 
He then tweeted about the need to show empathy toward Nazis. 
By way of comment, Piane simply told Mic, "Love is all there is."