Bill Cosby's lawyers say he is too blind to defend himself in court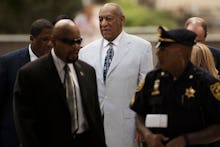 Lawyers for Bill Cosby — who has been accused of sex crimes and misconduct by dozens of women and is currently facing three felony charges of aggravated indecent assault for allegedly drugging and assaulting Andrea Constand in Pennsylvania in 2004 — are attempting to have the case discharged by arguing Cosby is too blind to defend himself.
Cosby's attorneys filed a motion on Thursday with a footnote mentioning their client is registered as "legally blind" as part of efforts to have the case dismissed, CNN reported. The defense argued Cosby's trial will become a "platform" for various accusers to testify against him, and that, as a blind man, he will find it impossible to defend himself against those allegations.
"No 79-year-old blind man could possibly defend himself against a claim that he sexually assaulted someone he supposedly met once, half a century ago — and the Commonwealth knows it," Cosby's defense team wrote in the motion. They later noted that "without his eyesight, Mr. Cosby cannot even determine whether he has ever even seen some of his accusers, let alone develop defenses and gather exculpatory evidence."
Cosby has been photographed at court appearances being led by members of his staff. Page Six reported back in July that the comedian was "completely blind."
According to CNN, prosecutors have responded to previous motions for dismissal in the trial by writing Cosby uses his "fame and fortune" to "hide his true nature."
Cosby faces up to 10 years in prison if convicted.