Michigan State frat's alleged scavenger hunt list includes photos of an "Asian baby"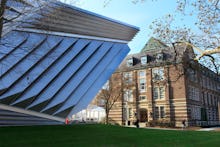 A scavenger hunt list allegedly authored by the Michigan State University chapter of the Sigma Nu fraternity has the frat in hot water, with both the university and its national organization investigating the chapter, USA Today reported Saturday.
According to the paper, the list contains numerous offensive items, such as "obtaining a picture of a woman's breasts with the fraternity's Greek letters written on them, for 50 points, and taking a picture with 'at least four Asians,' for 10 points, with 5 extra points awarded for including an 'Asian baby.'" The list also includes other questionable tasks like learning the door codes to neighboring sororities, stealing items that would "improve the house" and taking a photo with a homeless person.
"The actions implied in the list are in no way aligned with MSU's values," Michigan State assistant vice president for student affairs and services Terrence Frazier said in an emailed statement. "Our Office for Student Affairs and Services works closely with our Greek organizations on the myriad ways they enhance the campus community. We also have ongoing discussions with members on how to best represent MSU in a responsible manner that supports our core values."
The Interfraternity Council released their own statement, saying the IC "strongly stands against racism, discrimination, sexual assault, degrading actions and words and engaging in illegal activity," adding that they found the activities listed in the document "sickening."
Frat members contacted by USA Today either denied the document's legitimacy or declined to comment.
Correction: Oct. 29, 2016