Hillary Clinton turns up the heat on James Comey and FBI: "It is deeply troubling"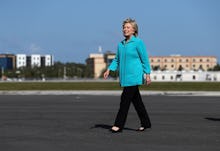 DAYTONA BEACH, Fla. — Hillary Clinton stepped up her criticism of FBI Director James Comey on Saturday, telling a crowd of Florida voters that "we can't let the last 10 days of this election be about the noise and the distractions."
On Friday, Comey sent the Clinton campaign reeling after providing a letter to Congress revealing that the FBI had discovered new material relevant to the investigation over Clinton's use of a private email server. The new emails were reportedly discovered on devices used by Clinton aide Huma Abedin that were examined during the course of the federal investigation into her estranged husband Anthony Weiner's sexually explicit messaging with a teenager.
At a "canvass kickoff" event at a gymnasium in Daytona Beach, Florida, on Saturday afternoon, Clinton reiterated her call for Comey to release more information about the new emails and criticized him for revealing their existence with less than two weeks before the election.
"I'm sure you may have heard about a letter that the FBI director sent," Clinton said before the crowd drowned her out with boos. "Well, if you are like me, you probably have a few questions about it. It is pretty strange to put something like that out with such little information right before an election."
"In fact, it's not just strange," she continued, speaking before a rowdy crowd of 900 in a hot gymnasium at the Dickerson Center. "It's unprecedented and it is deeply troubling. Voters deserve to get the full and complete facts, so we have called on Director Comey to explain everything right away. Put it all out on the table."
"In fact, it's not just strange. It's unprecedented and it is deeply troubling."
Clinton and her campaign have harshly criticized Comey's action since news of the letter broke on Friday afternoon. Clinton called on Comey to provide more details during a brief press conference Friday evening. Campaign chairman John Podesta and campaign manager Robby Mook held a call with reporters earlier Saturday, during which they angrily denounced Comey's actions as political meddling in an election season.
Comey's three-paragraph letter was vague and contained no details about the contents or scope of the new emails. He explained In a letter to FBI employees on Saturday that this was purposeful.
"We don't ordinarily tell Congress about ongoing investigations, but here I feel an obligation to do so given that I testified repeatedly in recent months that our investigation was completed," Comey wrote, according to the Washington Post.> "I also think it would be misleading to the American people were we not to supplement the record. At the same time, however, given that we don't know the significance of this newly discovered collection of emails, I don't want to create a misleading impression. In trying to strike that balance, in a brief letter and in the middle of an election season, there is significant risk of being misunderstood, but I wanted you to hear directly from me about it."
It's unclear what, if any, impact the Comey letter will have on Clinton's chances on Election Day. But she said that she feels "so motivated, so excited."
"We can't let the last 10 days of this election be about the noise and the distractions," Clinton said before heading to Miami for a campaign event featuring a performance by Jennifer Lopez.