Hilary Duff and her boyfriend wore racist pilgrim and Native American Halloween costumes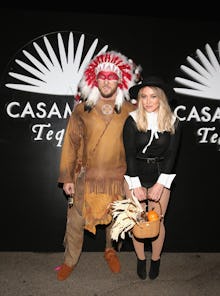 For Hilary Duff, being politically correct is so yesterday.
The former Disney channel actress and current star of Younger attended a Halloween party hosted by George Clooney in Beverley Hills on Friday, decked out in a pilgrim costume alongside her boyfriend, Jason Walsh who was dressed as a Native American.
It's a costume choice which — as Mic has written about extensively — is racist, both for its appropriation of culture and the way it steamrolls past the complex history of displacement, forced assimilation and systematic killings native populations experienced in the United States. 
It's also fair to note that Mic is far from the only outlet writing about this in 2016; places like Bustle, Refinery29 and BuzzFeed have also dissected why Native American costumes are offensive. Basically, you have to be near-willfully ignorant to miss the warning signs at this point.
But Duff, seemingly oblivious to the backlash that was headed her way, even posted an Instagram previewing the tiny gun her costume came equipped with before debuting her costume.
"Sooooo the fake gun for my pilgrim costume came." she captioned the photo. "Don't think it's quite big enough ????????."
Fans and critics of Duff took to Twitter to express their outrage over the costume selection: