Uber driver arrested for kidnapping and assaulting blacked out female passenger in DC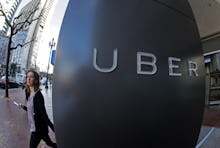 An Uber driver was arrested in Prince George's County, Maryland, on Thursday for allegedly kidnapping and sexually assaulting a female passenger who rode in his cab.
Police told Fox News that the man, 29-year-old Westagne Pierre, was summoned to a District of Columbia bar on the night of Oct. 18 by the victim's friends after the victim became too intoxicated.
Detectives believe that after picking her up, Pierre drove the woman, who was blacked out, to her house. Then he made a detour to a Budget Inn in College Park, where he carried her out of the car and into the hotel.
Pierre used his own name to check into the hotel room, police said, and after staying for some time, he made a pit stop at a nearby 7-Eleven, where he used the victim's American Express card to buy $14 worth of goods. 
The arrest isn't Uber's first dustup with sexual assault allegations. An investigation by Buzzfeed News found that the company has fielded five claims of rape and "fewer than" 170 claims of sexual assault directly related to an Uber trip between December 2012 and August 2015.
With the exception of the U.K., where Uber drivers recently won a landmark case to be considered full-time employees, the ride-share company classifies its drivers as independent contractors. This has the potential to create accountability issues, resulting from high employee turnover and low capacity for clear top-down communication.
Without clear protections in place for those who are victimized by their drivers, Uber is treading into dangerous waters — legally and otherwise.