New Hampshire police officer reportedly had "rapability" scale for female drivers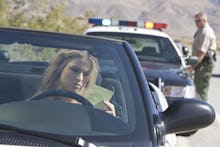 Rape is not appropriate punishment for anything, and certainly not for traffic violations. Yet, a New Hampshire police officer apparently believed otherwise, telling his female colleague on numerous occasions that he'd rather rape women breaking the rules of the road than just give them tickets. 
In a lawsuit filed Oct. 25 with the Hillsborough Superior Court, defendant Alexandra Drake alleged that Lt. Michael Masella sexually harassed her on a regular basis over the two years she worked at the New Boston, New Hampshire, police department, frequently using abusive language against her. 
Drake contends that Masella and her superiors ultimately retaliated against her when she reported the harassment, firing her from her position in October 2015. She has been unable to get another job since.
Drake's suit suggests that Masella, who was her field training officer, had a misogyny problem that prompted him to view female civilians as rape targets. From the court filings:
Masella conducted traffic stops involving female drivers while field training Drake. After completing the stop, he told Drake that he wanted to just take them out and "rape" them rather than issue a citation. Masella would routinely make comments about female drivers whom he thought found him attractive or good looking. He has apparently developed a "rapability" scale about female drivers and would test Drake whether a particular driver was "rapable."
According to the lawsuit, Masella also made frequent and disparaging comments about women in the department, complaining to Drake about their female colleagues' "issues" and "drama," suggesting that his personal opinion of these women could influence their employment status. Eventually, one female officer whom Masella wanted "fucking gone" was fired without notice, Masella insinuating that Police Chief James Brace didn't like her either. The suit suggests that their buddy-buddy relationship may have had something to do with the termination.
Drake never did anything about Masella's behavior because, according to the filings, she "was certain that the slightest slip could make her a target of severe harassment, termination of employment or even rape." 
Because she feared the consequences of failure to comply with Masella's orders, she cooperated when he had her falsify a DUI report in September 2014. After Drake reported Masella's sexual harassment, the department used the DUI incident as an excuse to launch an internal investigation against her and ultimately, to fire her.
No one at the New Boston Police Department was immediately available for comment, but when asked by New Hampshire 1 about the lawsuit, the department said it "strongly denies all accusations."