What is the Hatch Act, and how could it affect James Comey?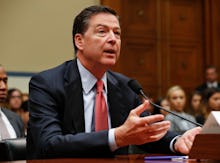 When FBI Director James Comey announced Friday that he was revisiting his investigation of Hillary Clinton's private email server, he may have violated the Hatch Act and in so doing, jeopardized his career. That, at least, was the assertion Senate minority leader Harry Reid made Sunday evening. 
In a letter addressed to Comey, Reid accused Comey of sitting on "explosive information" regarding Republican nominee Donald Trump's ties to Russia, while putting Trump's opponent on blast for "the slightest innuendo" related to her use of a private email server while serving as Secretary of State. 
"Your actions in recent months have demonstrated a disturbing double standard for the treatment of sensitive information, with what appears to be a clear intent to aid one political party over another," Reid wrote. "I am writing to inform you that my office has determined that these actions may violate the Hatch Act, which bars FBI officials from using their official authority to influence an election."
Reid continued: "Through your partisan actions, you may have broken the law." 
Comey concluded his investigation into Clinton's emails in July, but the scandal has dogged the former secretary throughout her presidential campaign. The tens of thousands of emails currently in question are not directly linked to Clinton, but rather, Huma Abedin, the candidate's top aide and estranged wife of disgraced ex-congressman Anthony Weiner. Weiner is presently the subject of a separate FBI investigation for his alleged sexting relationship with a 15-year-old girl, which is how this latest batch of emails came up in the first place: The FBI found them on Weiner's computer, and has since obtained a warrant to review them. Abedin, meanwhile, says she doesn't know how they got there. 
The FBI has apparently known about the emails for weeks, and although Comey deemed them "pertinent" to the investigation, no one knows exactly what they say. Thus the argument that Comey is trying to influence the outcome of the election, and has violated the Hatch Act — the timing of his announcement, coming as it did just over a week before the nation votes, is suspicious. 
What is the Hatch Act?
The Hatch Act bars government officials from using their position to interfere in and/or influence the outcome of an election. Alternately known as an Act to Prevent Pernicious Political Activities, the Hatch Act was passed in response to 1938 congressional elections, in which it was alleged that the Democratic Party had leveraged the Works Progress Administration to its political advantage. The act is named for Democratic Sen. Carl Hatch and was signed into law in 1939 by President Franklin D. Roosevelt.  
Did Comey violate the Hatch Act? 
In a New York Times op-ed, published Sunday, Richard Painter, who formerly served as ethics lawyer for the George W. Bush administration, wrote that Comey was in the wrong. Even if he had aired news of, say, a more serious FBI investigation into Trump's relationship with Russia, Painter insinuated, that still would have been "highly improper and an abuse of power."  
For that reason, Painter said, he made a formal a complaint against the FBI to the Office of Special Counsel on Saturday, alleging that Comey violated "a longstanding Justice Department policy of not discussing specifics about pending investigations with others, including members of Congress" when he alerted legislators to the FBI's investigation, without furnishing any details about the emails' content. That was leading, Painter explained, because it "cast suspicion on Mrs. Clinton" without substantiation. In other words, it's a shady thing for an official who wields Comey's power to pull right before an election.
As Kathleen Clark, an expert on legal ethics at Washington University in St. Louis, explained to the Washington Post, Comey may have betrayed his intentions in his letter to FBI employees, in which he explained his decision to inform Congress of the investigation. "I also think it would be misleading to the American people were we not to supplement the record," Comey wrote. 
Clark called this Comey's most "inculpatory" statement because it suggests that his motivation for telling Congress was to get the information in front of the American people. And there is an argument to be made for this — should the emails turn out to be relevant or even incriminating, it's possible Comey could have faced criticism for keeping them under wraps. 
However, as former federal prosecutor with the Justice Department Peter Zeidenberg told NPR, "There was nothing to announce." Because the FBI hadn't looked at the emails before the election, it would have been inappropriate to speak publicly about them in any capacity.
So what does all of this mean for James Comey? 
"It's not a criminal offense," Clark told the Post, so Comey wouldn't go to prison if it's determined that he has in fact violated the Hatch Act. It is, however, a "firing offense," which is to say, a potential career-ender.