2 best friends — 1 Muslim, 1 Jewish — dressed up as "Juslim" superheroes for Halloween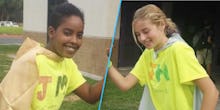 During Halloween time each year, it's sadly not uncommon to see a plethora of problematic costumes. 2016 has been especially bad, having seen its fair share of racist costumes even before Oct. 31.
Well, two best friends from California — one Jewish, one Muslim — decided to use their creativity to send a powerful message this Halloween and dressed up at "Juslim" superheroes. 
Writer Jeff Pearlman tweeted out the photo of his daughter Casey Pearlman and her bestie Yasmin Idris, both 13, Saturday night. Pearlman followed up with a blog post explaining how the costume came to be:
"For Halloween, they recently decided to be the Juslims. This was not a political statement or a social statement or a stance on the presidential election. They weren't doing it in the name of religious pride or America's diversity or equality for all."
Pearlman added that he and his wife have a great relationship with Idris' parents as well:
"Not only is there no mistrust or conflict over religion—there's not even the hint of mistrust or conflict. We're all just people, trying to work our way through this world. Despite what we've been hearing lately in the national dialogue, there need not be this division based upon skin color, based upon place of birth, based upon ... trivial bullshit."
Casey and Idris spoke to BuzzFeed and said while their idea wasn't initially influenced by Republican presidential nominee Donald Trump's inflammatory rhetoric about Muslims, they're glad they can stand up to hate.
"When we realized that we were standing up to what [Donald Trump] believes in, that kinda made me really happy," Casey said,
"I'm Muslim and she's Jewish; I'm black and she's white. I think it's really empowering for people to see us as role models in saying let's stop the war and to show equality between all people," Yasmin added.
Pearlman's tweet has been retweeted more than 41,000 times and garnered an amazing reaction on Twitter:
Trump could learn a thing or two from Casey and Yasmin.