You don't have to be a woman to dress up as Hillary Clinton — and this boy proves it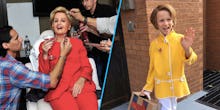 Dressing up as Hillary Clinton for Halloween this year is easy. 
Slip into a pantsuit, style your blonde locks in a bob, wear a wide grin, wave and pin a piece of campaign paraphernalia onto your lapel. Suddenly, you are the democratic presidential nominee. An added bonus: It's a costume that quite literally anyone can pull off, no matter your gender.
Over the weekend, Katy Perry certainly made plenty of headlines for her transformation into Clinton, complete with a wig and her own Bill Clinton, played by a friend. 
But perhaps the real testament to the glory and power of this costume is this 8-year-old boy. 
On Sunday, a Brooklyn mom, who uses the Twitter handle @DebbersGar, posted a picture of he son dressed up as Hillary Clinton for Halloween.  "Our 8-year-old son is with you, Hillary Clinton, today and everyday," @DebbersGar wrote, followed by the hashtags #NotAWig and #HesWithHer. 
Less than 24 hours later, the post has been liked more than 4,000 times, and been reposted by the Hillary for America Twitter account. 
According to @DebbersGar, it was her son's decision to go as Clinton, after an unsuccessful plea for his 5-year-old sister to go as the presidential nominee. 
"She was saying no to everything," she said in an interview with Mic. "And then our son said, 'Someone has to be Hillary, I'm going to be Hillary!' He completely dropped his costume idea which was a character from a video game that's also a female character. He just was so gung-ho. He was so excited. They have similar hair. So we started by asking on Facebook if any of my friends' kids have like pantsuits." 
In years previous, her son has dressed up as the NYC Subway's F Train, as well as a multiplication table, so this year was the first time he had to find a pantsuit. 
Obviously, it wasn't easy, but @DebbersGar's own mother, who's also a Clinton fan, helped out by bringing over six of her own blazers for her grandson to try on. They ended up going with a bright yellow one with a white lining and a flair, which her son loved. It also looked similar to the yellow blazer Clinton wore in a debate with Bernie Sanders. 
Other parts of the outfit involved a pair of flats, which are borrowed from a friend, earrings made from tin foil and a briefcase for him to carry his candy in. On the back, he wrote "Vote for me!" 
"He does what he wants to do," @DebbersGar said. "He's a super nerd but he's super confident and I would definitely say that he is very committed to gender equality. He's so like, I can wear whatever I want. There are no colors that are for boys or girls. There was no question that he couldn't be Hillary cuz he's a boy. He's his own person. It was just like him being like, 'Oh I want to be a multiplication table.'" 
@DebbersGar said that they debuted the outfit yesterday at a neighborhood Halloween parade and according to her, it got rave reviews from her neighbors. 
"He got a lot of love. It's all love and high fives," she said. 
Currently, @DebbersGar's son is at school wearing the costume, and intends on trick-or-treating in it tonight. But what matters most to the 8-year-old isn't public opinion, but that Clinton sees it herself. 
"He's so excited that maybe Hillary saw his costume," @DebbersGar said. "After [Hillary for America] retweeted it, he said, 'Does that mean she saw it?' And I said, 'Maybe.' And he said, 'She probably will.'"
Only time will tell, but we hope she sees it too.