The 8 best celebrity costumes of Halloween 2016 so far — and 3 of the worst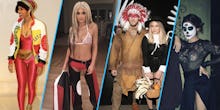 Celebrity Halloween is serious business. With just one costume, a celebrity can either be lifted to legendary status (Hi, Chrissy Teigen), or inducted to the shame hall of fame (Hi, Julianne Hough). One costume can totally make or break a career — or even start internet feuds.
So every year, celebrities tend to really go for it, hoping that their attempt at a topical pop culture reference or at imitating another celebrity will make headlines for better or for worse. And 2016 was no different. 
Here are 2016's greatest — and worst — celebrity costumes. 
Kylie Jenner 
At the rate Kylie Jenner has been going this year, we were bracing ourselves for her to pull out some racist costume mess. After all, this year alone, she's already worn cornrows, attempted to take credit for wigs and wore a du-rag to New York Fashion Week. 
However, much to our and the entire internet's surprise, Jenner pulled out an objectively amazing costume, dressing up as Christina Aguilera from her music video for "Dirrty." 
She wore the red striped bikini top and the leather chaps. She even had the blonde and black hair and the blue eyes. She was Aguilera, from head to toe. 
It was a look so convincing that Aguilera herself weighed in on the look, writing on Twitter and Instagram: "Yes to dirrty 2016!! Get it girrrl!!!"
The look was, to some, the best thing she has ever done. 
But was the look good enough to make up for her past transgressions? We'll let you decide on that. 
Katy Perry
It should come as no surprise that Katy Perry dressed up as Hillary Clinton for Halloween. She has been, after all, a huge supporter of hers from the beginning, making a speech at the Democratic National Convention and stumping for Clinton herself. 
What is surprising, though, is the dedication. Perry didn't just slip into a pantsuit and go, "That'll do." She went through a complete transformation, with a blonde wig plus makeup and prosthetics that made her look as though she really was a 69-year-old woman. 
Perry also enlisted the help of a friend, who transformed into Bill Clinton down to the "I'm With Her" lapel pin. 
Can't say she's not committed. 
Beyoncé, Blue Ivy and Tina Knowles
Beyoncé never disappoints on Halloween. In years previous, she's showed up to parties as Storm from X-Men, Janet Jackson and Queen Aoleon from Coming to America.
This year, she showed up to an '80s-themed Halloween bash dressed as one part of the hip-hop group Salt-N-Pepa. And what made the look all the more glorious is that she got her daughter and her mother in on the action as well, with all three of them wearing outfits similar to those worn by the '80s group in the iconic music video for "Push It." 
Based on this video Tina Knowles posted early Monday, they had a blast. 
Bette Midler 
It is a widely-known fact that Hocus Pocus is, without a doubt, one of the greatest Halloween movies of all time. And this year, Bette Midler, who starred in the Disney original movie, wanted to remind us all of that. 
On Saturday evening, Midler showed up to her 21st annual Hulaween bash dressed up as her character from the film, Winifred Sanderson, complete with a massive red wig and a broom. 
"Winifred Sanderson flies in to Hulaween! Says thanks to everyone who made it such an electrifying evening!!" Midler wrote on Instagram. 
Now, if only Sarah Jessica Parker and Kathy Najimy got in on the fun too. 
Chrissy Teigen and John Legend's daughter 
The only thing better than dogs dressing up on Halloween is babies. And this year, we were blessed with the cuteness that is Chrissy Teigen and John Legend's daughter, Luna. 
Of course, Chrissy being Chrissy, she couldn't decide on just one costume for her daughter, choosing instead to thrill her over 8 million Instagram fans by posting pictures of Luna as a hot dog, a banana, a peacock, a hula girl, a Pink Lady from Grease and more. 
All of them were equal in cuteness and randomness.  
Marc Jacobs 
Marc Jacobs is usually dressed in neat and chic suits, with the occasional swipe of nail polish. So when we first saw this Halloween costume, we thought, "Marc who?" 
For reasons that remain unknown, Jacobs decided to go as a female body builder named Stacie for Halloween. With puffed and sculpted muscles, a scrunchie and a heavy dose of sparkly eyeshadow, he looked exactly the part. 
And by the looks of it, he got the Bette Midler approval, which, let's be honest, really is the ultimate seal of approval.
Nicole Richie 
We had a feeling Nicole Richie wouldn't let us down. 
For Halloweens previous, Richie's showed her range by dressing up as a convincing Jack Skellington and Cruella de Vil. This year, she continued to be one of our most unproblematic faves by dressing up with her besties as one part of the Vegas duo Siegfried and Roy, complete with one friend dressed as a white tiger. 
They're glitzy and glamorous and Richie managed to pull off a very bad wig. 
Teyana Taylor 
Honestly, truly, this may be the best costume out of the bunch. Teyana Taylor dressed up as Joanne the Scammer for Halloween, a role it appears as though she was meant to play. 
Taylor even posted a video of herself acting the part, being dragged out of a fancy-looking hotel room while wearing a fur coat, a very convincing wig and screaming, "Get out of my caucasian hallway. This is my hallway."  
She wins. 
And now for the worst. 
Hilary Duff 
It is with grief in our heart that we must report that an unproblematic fave has fallen. 
Hilary Duff has spent more than 15 years in the spotlight, and has never had a public fuck-up. She was just a normal Brooklyn mom. She was just minding her own business in Hollywood, starring in a TV show and orchestrating a high quality Instagram. 
For years, she has been nothing but just fine. Until this weekend, that is. For Halloween, she decided to dress up as a sexy pilgrim, with her boyfriend tagging alongside her dressed as a Native American man. 
It's a costume that, as Mic has written about a whole lot and Mic's Brianna Provenzano reported "is racist, both for its appropriation of culture and the way it steamrolls past the complex history of displacement, forced assimilation and systematic killings native populations experienced in the United States." 
On Sunday afternoon, Duff tweeted an apology.
Unfortunately, you lost us this year, Duff. 
Ashley Tisdale 
And Duff isn't the only celebrity to step out with an offensive and culturally appropriative costume. There's also Ashley Tisdale, who dressed up in a Day of the Dead-inspired look, complete with makeup that looks similar to a calavera, or the skull associated with the Mexican holiday. 
After she posted her look on Instagram, fans swarmed her Instagram, writing things like: "Literally this is cultural appropriation" and "Joining us on day of the dead celebrations I think everyone should be welcomed, but trying to mix it up with Halloween, we risk losing something that for us Mexicans here in the states is cool and unique to our culture."
Jodie Sweetin
Jodie Sweetin from Full (and Fuller) House also dressed up in a Day of the Dead-inspired ensemble and calavera-inspired makeup. So, here's a reminder: Day of the Dead is a Mexican holiday meant to honor dead relatives. It has nothing to do with Halloween. 
So of course, Sweetin's fans were also not shy about calling out the actress. "Thanks for wearing my culture as a costume. Really appreciate it," one commenter wrote. Another: "That is NOT a Halloween costume. It's the way my people celebrate the lives of those who have passed on. Please stop appropriating a tradition you don't fully practice or embrace." 
So, bravo to Beyoncé, Teyana Taylor and (we never thought we'd say this) but Kylie Jenner too. As for Hilary Duff, Ashley Tisdale and Jodie Sweetin, all we have to say is: Do better.