Donald Trump presidential polls: The race is tightening, but Trump is still behind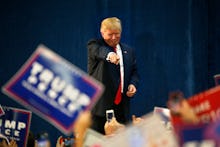 Donald Trump still trails Hillary Clinton in both national polls and crucial swing state surveys eight days before Election Day.
While Trump has narrowed his polling deficit with Clinton to 2.4 points in the RealClearPolitics national average, he still trails, even as voters have already begun voting in a number of must-win swing states.
The Trump campaign cheered FBI Director James Comey's announcement that the FBI would look into more emails possibly connected to Clinton's use of a personal email server while secretary of state.
But polling taken after that announcement showed little movement in the race.
A Politico/Morning Consult poll taken entirely after Comey's Friday announcement showed no change in the contest, with Clinton maintaining a 3-point national lead over Trump. Voters surveyed in that poll said the email announcement did not change their vote. And those who did say the emails bothered them were already voting against Clinton.
Trump is also behind in a number of states he must win if he has any path to the 270 Electoral College votes needed to secure the White House. Those states include Pennsylvania, Virginia, Colorado, New Hampshire, Nevada and North Carolina. Without flipping at least two or more of those states, as well as sweeping the remaining battleground states of Florida, Ohio and Iowa, Trump has no path to 270.
Still, tightening national poll numbers could be seen as a sign Trump may yet pull off a historic upset on Nov. 8.
Yet historically, races do tighten in the final days of a presidential contest, as partisans rally around their nominees and undecided voters come off the sidelines.
On this same day in 2012, President Barack Obama and Republican nominee Mitt Romney were tied in the RealClearPolitics national average.
Obama went on to defeat Romney by 4%.
And polling experts who have been following the 2016 race since the beginning say that while poll numbers shifted somewhat after dramatic news in the contest, Clinton's lead has been for the most part stable since last September.
Lucky for us, in eight days we'll see whether the polling was right or wrong.