Hillary Clinton email investigation: What we've learned about the FBI probe so far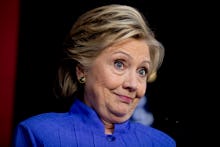 On Friday, FBI Director James Comey publicly announced he was again looking into the case of Democratic presidential candidate Hillary Clinton's email server after a batch of emails was discovered during an unrelated investigation into ex-Congressman Anthony Weiner's latest sexting exploits.
During a campaign event in Florida, Clinton cast doubt on Comey's letter.
"It's not just strange," Clinton said at a campaign stop in Daytona Beach, Florida. "It's unprecedented and it is deeply troubling. Voters deserve to get the full and complete facts, so we have called on Director Comey to explain everything right away. Put it all out on the table."
What we know so far
The new emails, which may take weeks for the FBI to sift through, didn't come from Clinton's private server. The emails were among roughly 650,000 emails that were found on a computer belonging to Weiner, the estranged husband of the Clinton campaign's vice chairwoman, Huma Abedin. 
Despite media reports to the contrary, Comey's actions do not amount to a "reopening" of the case. In July, after the bureau concluded that "no charges are appropriate" against Clinton regarding her use of a private email server, the investigation was considered complete — but not "closed," according to Benjamin Wittes of Lawfare. With that in mind, the letter from Comey should be treated as a supplement and not a brand new operation. However, it does mean that the investigation could result in a different conclusion.
All of that said, Comey's letter was Republican ammo, pointing more fingers at Clinton's transparency and email practices — practices Comey called "extremely careless" this summer.
Even though the emails probably won't amount to much, according to the Clinton campaign, campaign chairman John Podesta wasn't thrilled with how it was handled.
Fortunately for the Clinton campaign, even senior Department of Justice officials criticized Comey's decision to publicize the move, with roughly 100 former federal prosecutors and DOJ staffers signing a letter expressing concerns about the director's choice to release the letter so close to the election.
"We cannot recall a prior instance where a senior Justice Department official — Republican or Democrat — has, on the eve of a major election, issued a public statement where the mere disclosure of information may impact the election's outcome, yet the official acknowledges the information to be examined may not be significant or new," the letter read, according to USA Today.
What this means for November 8
The email events are being called this race's "October Surprise," an unexpected moment late in the game that has the potential to shift election results. But not only is it unlikely that the investigation will be finished by election day, but October Surprises, historically, tend not to have much of a bearing on polls. Clinton currently leads Donald Trump with 49.2% to Trump's 44.6%, with what FiveThirtyEight estimates as a 76.4% chance of taking the presidency. However, a new Washington Post-ABC News poll found that 34% of people polled were less likely to support Clinton following the FBI news.
That said, with only days until the 2016 election, even just the phrase "email investigation" is likely to inject itself into the voter's psyche. Whether or not the new emails bring anything to light, it's another thorn in the Clinton campaign's side.