The Weeknd announces Star Boy: Legend of the Fall phase 1 world tour and pop-up shops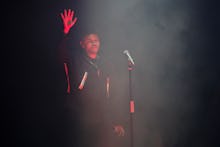 The world still has three weeks to wait for the Weeknd's Starboy to arrive, but for fans who think they're already going to love it, they can start gearing up in style. 
In the early hours of Monday morning, the Weeknd shared details on his Star Boy: Legend of the Fall world tour, which kicks off February 2016. It's labeled his "2017 world tour phase one," which suggests there could be a "phase two" on the way at some point in the near future.
The "Legend of the Fall" subtitle adds an interesting detail to the supposed Starboy narrative. So far, the two music videos the Weeknd has shared off the album have captured the artist in purely destructive flights of fancy. In "Starboy" a new, sleeker, trimmed-up version of the star kills his old dreadlocked self and smashes all his previous accolades. The disco punk "False Alarm," video has the artist taking hostages and gunning down police before killing himself once again.
Perhaps every visual will offer a new, imaginative glimpse at the ways in which a star can fall, so to speak.
The Weeknd also announced a set of pop-up shops to promote the album, taking place Nov. 4 through Nov. 6. Details are scarce, but fans can sign up to "be the first to know more information" at the Weeknd's website. 
One can check in on early ticket offers on the artist's site, as well. Fans that order merch within the next 24 hours will get exclusive first access, according to a banner on the page. 
The Weeknd's Starboy drops Nov. 25. Read up on everything we know about the album so far here, and check out the list of cities and tour dates below.
2/17 Stockholm, Sweden - The Globe