Beyoncé, Blue Ivy and Tina Knowles as Salt-N-Pepa are winning Halloween 2016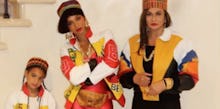 This will make you wanna shoop. 
Beyoncé shared several snaps of her costume on Sunday night. And, it turns out, it was a family affair. Beyoncé, her mother Tina Knowles and little Blue Ivy teamed up to depict Grammy-winning rap group Salt-N-Pepa.  
In the photo series, Beyoncé gets herself ready to be Pepa, while Blue is dressed up as Salt. Tina Knowles plays the group's DJ, Spinderella. 
The costume was a big hit with the Beyhive, Beyoncé's internet fan base. 
Beyoncé has a knack for choosing great group costumes that celebrate black culture. In 2015, the entire family dressed up as characters from the Eddie Murphy film Coming to America. Bey dressed as Queen Aoleon, her husband Jay Z played Prince Akeem and Blue Ivy dressed up as Imani Izzi, Akeem's supposed-to-be bride. 
In 2014, Queen Bey dressed as a "Rhythm Nation"-era Janet Jackson and Blue Ivy dressed as King of Pop Michael Jackson in his iconic red jacket and bejeweled glove.