Native Americans still face racism across the US as Standing Rock protests continue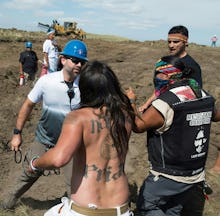 While Native American protesters were being pepper-sprayed, shot with beanbags and arrested en masse by law enforcement in Cannon Ball, North Dakota, on Thursday, the Cleveland Indians were wrapping up Game 3 of the World Series; emblazoned on their hats was the franchise's racist mascot — Chief Wahoo.
Over Halloween weekend, as protesters were recouping and taking stock of their diminished numbers, photos went public of Jason Walsh — the white boyfriend of actress Hillary Duff — wearing a feathered headdress, red face paint and a fringed leather tunic at a costume party in Beverly Hills.
These are just two of the many ways Native Americans and their cultures have been co-opted, caricatured and ridiculed at sports stadiums and Halloween celebrations across the country of late. It's not a new pattern — but these incidents take on renewed irony amid the largest Native-led protests the United States has seen in decades.
This geographically disparate mix of tensions falls into a long pattern of casual racism targeting Native Americans. For decades, popular culture has painted indigenous people in cartoonishly broad strokes, stereotyping them as feral, red-faced savages and using their likenesses as costumes or proxies for sports teams — even as Native-led fights for self-sufficiency and self-definition push back daily against such depictions.
In a country marked by its historical robbery and brutalization of Native peoples, there are very real psychological costs to these practices, too. In July 2014, the Center for American Progress published a report linking the use of Native American caricatures as mascots to lower self-esteem among indigenous youth, who already face disproportionately high rates of suicide and substance abuse.
Since April, thousands of indigenous people from over 90 tribes across the Americas have traveled to the outskirts of the Standing Rock Sioux Reservation near Cannon Ball to block construction on the 1,172-mile Dakota Access Pipeline there. 
If completed, the pipeline would transport Bakken crude oil to Illinois, and potentially threaten the reservation's drinking water by burrowing under the nearby Missouri River.
But as these protests pushed forward and were met with an intensifying law enforcement crackdown leading up to the World Series' first pitch last week, a dozen demonstrators gathered outside Progressive Field in Cleveland, where the Indians play, holding signs and chanting, "Hey hey, ho ho, Red Sambo's got to go!" according to PBS.
"For those of us who know our history, an Indian head means genocide," said Sundance, head of the Cleveland American Indian Movement. This activist group has been protesting the Indians' bug-eyed Chief Wahoo mascot since 1970.
At least three professional sports franchises are still represented by derogatory terms and images of Native Americans, despite years of Native-led protests asking them to stop: the MLB's Cleveland Indians, the NFL's Washington Redskins and the NHL's Chicago Blackhawks.
"American Indian mascots have harmful psychological consequences for the group that is caricaturized by the mascots," said Dr. Stephanie Fryberg, a psychology professor at the University of Arizona who has co-written four reports on the issue with her colleagues, according to CAP. 
"American Indian mascots have harmful psychological consequences for the group that is caricaturized by the mascots." — Dr. Stephanie Fryberg
Such imagery, she added, "[reminds] American Indians of the limited ways in which others see them ... [which] in turn, restricts the number of ways American Indians can see themselves."
As a result of these and similar findings, the American Psychological Association passed a strongly worded resolution in 2005 calling for "the immediate retirement of all team names, mascots, and other derogatory representations" of indigenous people, the report states.
Yet disturbingly few have heeded these calls. Native American Halloween costumes, for one, remain inexplicably common. This year, some of them even directly parodied the Dakota Access protests:
Meanwhile, the same day that 141 protesters were arrested and allegedly locked in dog kennels in North Dakota, on Oct. 28, cheerleaders for Greenfield-McClain High School in Greenfield, Ohio, brought a sign to a football game against the neighboring Hillsboro High School Indians that read, "Hey Indians, get ready for a Trail of Tears Part 2."
Now, as demonstrators gear up for a "last stand" along the banks of the Missouri River, indigenous issues are being detailed in headlines and newspaper front pages across the country. Even if the protests fail to stop the pipeline in the end, it's worth channeling the attention they've generated toward addressing Native Americans' concerns wherever they crop up — political, cultural and otherwise.