This is why your Facebook friends are checking in at Standing Rock Indian Reservation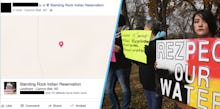 On Monday, Facebook was filled with posts from people using the site's check-in feature to say that they were at Standing Rock Indian Reservation in Cannon Ball, North Dakota. 
The trend is a result of a viral Facebook post urging people to check into the site of the protests at the Standing Rock reservation to "overwhelm and confuse" police who have been removing Dakota Access Pipeline protesters. 
The Morton County Sheriff's Department has been using Facebook check-ins to find out who is at Standing Rock in order to target them in attempts to disrupt the prayer camps. SO water protecters are calling on EVERYONE to check-in at Standing Rock, North Dakota, to overwhelm and confuse them. This is concrete action that can protect people putting their bodies and well-beings on the line, that we can do without leaving our homes. Will you join me in Standing Rock?
It's unclear where this post originated, but thousands of people have checked into the location on Facebook. 
It's also not evident if the story behind the protest — that the police in Morton County are using Facebook to determine who is protesting at Standing Rock — has been corroborated. (We reached out to the Morton County Sheriff's Department and will update if they respond.)
In fact, a new page about the Facebook protest was created on the fact-checking site Snopes on Monday, asking if there is any validity to the claims. The question has not yet been answered on the page. 
The Dakota Access Pipeline is a planned pipeline that would transport oil between North Dakota and Illinois. The pipeline would go under the Missouri River, potentially putting the Standing Rock Sioux's main water supply in danger. Many groups — including Native Americans, environmentalists and civil rights activists — have been protesting the potential pipeline for months. This Facebook protest is just the latest way for people to show solidarity.