Starbucks' sugar skull cookies exemplify the commodification of Día de los Muertos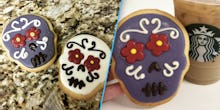 In recent years, ornate sugar skulls, aka calaveras, have become an increasingly popular design for Halloween celebrations in the U.S. Think cute, ornate skull cookies or white makeup with bright geometric or floral designs. 
This fall, Starbucks hopped on the "trend" with its sugar skull cookies, which started to sell at the end of September.  
But critics have been quick to point out that the trendy style isn't trendy at all. Instead, it's appropriating a rich cultural tradition associated with Día de los Muertos (Day of the Dead), a Mexican holiday that celebrates and honors the dead. 
While the Starbucks press release does give a small nod to the sugar skull's cultural history, the coffee behemoth is making a buck off of one culture's "cute" traditions. 
People took to Twitter this month to denounce the appropriation and commodification of sugar skulls. 
The truth about sugar skulls
The colorful skulls are popular icons that played important roles in Aztec and other Mesoamerican cultures, Mic previously reported. And they're not meant to be spooky, like typical Halloween decor. The elegant designs actually pay homage to la Catrina, a female skeleton that was often used to mock Mexican natives who tried to look more European, the Latin Times reported. 
These days, families set up altars with food and decorative sugar candy skulls to welcome deceased family members for the holiday. Día de los Muertos is not simply "Mexican Halloween." The holiday is a celebration of the dead on Nov. 1 and 2. (And it's not just in Mexico; the day is celebrated throughout Latin America and parts of the U.S.) 
Sarah Troop, executive editor of the Order of the Good Death, a group that combats death-phobic culture, isn't surprised that sugar skulls have skyrocketed in popularity in the U.S., she said in an email. 
"Our American society is visually oriented — we are often drawn to things through our gaze and so we want to see beautiful things, and Día de Muertos is certainly that," Troop said. "However, the paramount reason we've seen the rise in popularity of sugar skulls and other iconic images associated with this cultural observance is that over the last century we have become a a death-denying society."
Troop explains that families in the U.S. used to hold funerals at home, but now there is a disconnect as funerals are outsources to professionals, and the mourning no longer see their loved ones when they are dead. In contrast, some Mexican traditions treat death as a normal part of life and also celebrate their fear of mortality. 
"Of course, we see a cultural observance like Día de Muertos that isn't scary, but beautiful and inviting and we want to join the party, too," Troop said. 
The line between appropriation and appreciation  
Troop noted that Starbucks shops in Mexico often sell "pan de muerto," (bread of the dead), a sweet bread used as a traditional offering to the dead , made in the shape of a little grave mound with bones on top, or made to look like a corpse.
But are Starbucks' pan de muerto and sugar skull cookies really celebrating Mexican culture? 
"Let's face it ... Starbucks is a business, it is about generating income not honoring per se," Troop said. 
"We look for items that are seasonally relevant and festive and of course pair well with coffee," a Starbucks spokesperson said in an email responding to a request for comment about the sugar skull cookies. "This particular cookie has been very popular with customers and is available while supplies last in our U.S. Starbucks locations."
But the cookies hardly acknowledge the community that celebrates Day of the Dead. The press release stated that the cookie is "great when paired with the Chile Mocha," describing the treat as a "buttery shortbread cookie with a skeleton design for Día de los Muertos, a holiday celebrated throughout Mexico."
Customers aren't reading this information when they walk into a store and purchase a cookie. Instead, they'll enjoy cute, decorative cookie, but they'll miss out on the context of how this cookie is different from other Halloween treats, like the "mummy cake pops" that Starbucks also sells. 
"Remember, the key definition of cultural appropriation is when the majority culture adopts part of a minority culture out of context," Red Bubble blog, a blog associated with Red Bubble, a creative community and marketplace, noted, explaining that appropriation oppresses minority groups. 
Starbucks isn't alone; plenty of companies are using sugar skulls as decor. There are sugar skull growlers, T-shirts, gothic wedding cake toppers and more. 
"Companies, like ones in the alcohol industry, are using these elements to sell products, and by doing so the actual value of the sugar skull is dismissed," California State University graduate Vanessa Martinez told the California State University San Marcos newsroom. "This is how commodification occurs." Martinez recently completed research titled: "Sugar Skulls and Hipsters: The Cultural Appropriation and the Commodification of Día de los Muertos." 
"It will take a great deal more than cookies to oppress us" — Sarah Troop
So those adorable skull cookies that make for a good Instagram? They commodify someone else's culture if you're eating them at a hipster Halloween party or pairing them with a Frappuccino at your local Starbucks.
Sarah Troop doesn't take this kind of commodification of her culture to heart, though. 
"For centuries Spanish colonists and the church tried to eradicate these traditions but they endured. We endure," she said. "We have been through a lot — both Chicanos here at home and the people of Mexico — it will take a great deal more than cookies to oppress us."