There's a Donald Trump email scandal almost nobody is talking about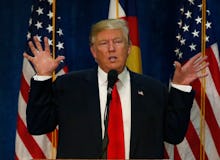 Hillary Clinton's use of a private email server has dogged her presidential hopes for almost the entirety of her presidential bid, and threatens to upend the race with just eight days to go until Election Day.
Donald Trump has sought to make the issue a defining one against his opponent. But he has a habit of destroying and deleting thousands of emails and documents amid the thousands of lawsuits surround his business empire, according to a Newsweek analysis.
In fact, Trump has deleted documents and emails, sometimes against court orders, since at least 1973, according to Newsweek's review, often in an effort to slow down or stonewall legal proceedings.
That year, Trump and his father's real estate company faced charges from the government for refusing to rent apartments to prospective black tenants.
In the course of the trial, when the government was seeking records and depositions for the trial, Trump finally admitted that the company had been, "destroying their corporate records for the previous six months and had no document-retention program."
Trump was also caught in a 2005 lawsuit having either deleted emails or not retaining them on a server amid a lawsuit over a casino project in Florida.
After being forced under oath to testify about how email records were stored, Trump Hotels originally lied about not having servers before admitting that their emails had been deleted, Newsweek reported.
"Beginning around 2003, the company wiped clear the data from everyone's computers every year," according to Newsweek's report.