iPhone 8 rumors: Tech CEO reportedly says Apple's next smartphone will have OLED display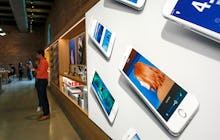 The iPhone rumor mill never stops chugging, and most speculation is unreliable. But it's hard to question the word of a top tech company's chief executive. BGR reports, via Nikkei, Sharp CEO Jeng-wu Tai basically confirmed the presence of an OLED display in Apple's upcoming smartphone. We don't have an official name yet, so let's just call it the iPhone 8 for now.
"The iPhone has been evolving and now it is switching from LTPS (low-temperature poly-silicon) to OLED panels," Tai reportedly said during an event at Taiwan's Tatung University over the weekend. "We don't know whether Apple's OLED iPhones will be a hit, but if Apple doesn't walk down this path and transform itself, there will be no innovation. It is a crisis but it is also an opportunity."
Rumors of an iPhone equipped with OLED technology have been spreading for a while, with Bloomberg even reporting that Sharp was in talks with Apple to produce OLED displays for the new iPhone. That report, along with the corroborating statement from Sharp's high-profile leader, provide strong evidence that Apple is indeed making the switch from LCD. 
What's the advantage of this? OLED screens are thinner and brighter yet conserve more battery. They can be costly, though, due to their difficulty to produce. That could explain Apple's desire to strike a deal with a big-time tech manufacturer. 
The iPhone 8 — if that's its name — is expected out sometime in 2017. Its release will mark the 10th anniversary of Apple's game-changing smartphone.