Hillary Clinton presidential polls: How has the email investigation affected the race?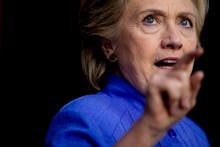 The FBI's probe into Hillary Clinton's email servers has been a central conflict of the Democratic presidential nominee's campaign, as she fights to overcome labels like "dishonest," "untrustworthy" and, of course, "crooked" in her bid for the White House. After opponent Donald Trump faced his own scandals — damning tax returns, leaked audio of lewd comments and a dozen sexual assault allegations — Clinton pulled ahead of Trump in the polls with ease.
On Oct. 24, Clinton boasted a double-digit lead over Trump, accumulating six points nationally in just a few weeks. But when, on Friday, FBI director James Comey announced he would be reopening the bureau's email investigation, it became clear Clinton's path to the presidency wouldn't be as clear as she, or her supporters, had once thought. 
Will Comey's announcement hurt Clinton's campaign?
Still, the latest polls still largely point to a victory for Clinton. On the same day as Comey's "October surprise," Clinton maintained a four-point advantage over the Republican nominee, a wide margin considering 12 million Americans have already cast their votes. On Monday, that four-point difference narrowed to 2.8 points.
While it would be easy to draw a clear cause-and-effect relationship between the renewed investigation and Clinton's falling poll numbers, to do so would ignore some crucial context.
What do the tightening poll numbers mean?
As Mic previously reported, the polls historically tighten in the final days of a presidential election — and a razor-thin margin could actually inspire more Clinton supporters to make sure they cast their ballots on Nov. 8. 
What's more, a Politico/Morning Consult poll conducted after Comey's Friday revelation showed that 39% of voters reported the reopened investigation had no influence on their decision to vote for Clinton. Kyle Dropp, Morning Consult's cofounder and chief research officer said he's not anticipating any kind of "dramatic shift" over the next eight days, either.
He said, "While Friday's news may be considered an 'October Surprise,' it doesn't seem to be moving the needle as of now."