Study: Americans say student debt hasn't gotten enough attention during the 2016 election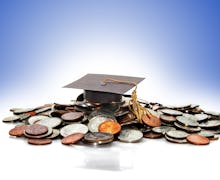 Only 1 in 10 Americans thinks the student debt crisis — an issue that disproportionately affects young people and people of color — has received enough media coverage this election cycle. 
This data comes from the results of a new survey that personal finance research firm ValuePenguin conducted exclusively for Mic of more than 1,000 people selected to reflect the U.S. population per the latest census.
According to the study, 71% of millennials aged 18 to 34 said they agreed that "the growing amount of student debt in the U.S." has not gotten enough attention in the press as the presidential election approaches. Perhaps surprisingly, a significant portion of older Americans — 74% — said the same.
Only 11% of respondents of all ages said the issue has gotten enough coverage, while the remainder said they neither agreed nor disagreed.
Overall, more than two-thirds of people across age groups agreed that reducing higher education costs should be a top priority for the next president.
Given that level of support for reform, it's notable how little airtime education and student debt has gotten: During the three 2016 presidential debates, for example, in the four-plus hours Democratic presidential nominee Hillary Clinton sparred with Republican candidate Donald Trump, the word "college" came up only 11 times, mostly just in passing.
The size of the national debt, by contrast, was one of the main topics of discussion in the final debate moderated by Chris Wallace. 
One reason for the disconnect might be the fact that affluent voters in the donor class have other priorities.
The Wall Street Journal — whose readers have been estimated have a median income of nearly $200,000 a year — recently published survey results detailing its readers' biggest economic concerns out of a list of 157 potential topics, and the national debt and income tax reform came out on top.
Education didn't appear at all in the top 10 topics.    
In the ValuePenguin survey, on the other hand, young people united around the idea of not just reducing debt but also implementing specific programs — and student loan forgiveness, in particular.
According to the ValuePenguin survey, 82% of millennials said they'd vote for a candidate who supports student loan forgiveness, while only 4% said they wouldn't. Older voters were marginally less supportive: Only 72% of non-millennials backed loan forgiveness, and 11% opposed it.
While you might not know it from the debates (or media coverage), both presidential candidates also agree with the idea of student loan forgiveness after a certain time period, although their plans differ in many respects. 
Clinton, for instance, has been vocal about trying to make college debt-free and has also called for reducing the interest payments for existing borrowers. 
And back in October, Trump released his own policy proposals aimed at making student loan repayment more affordable, although experts have noted it skimps on details, including how Trump would fund the plan.
In the ValuePenguin survey, 23% of millennials and 26% of non-millennials said they believed Trump would do the best job of lowering the more than $1 trillion in outstanding U.S. student debt — while 43% of millennials and 41% of older respondents said the same of Clinton. (Other respondents chose third-party candidates or "not sure or other.")
Of all Americans who chose Trump, 57% said he would reduce education debt by creating more jobs. Of those who chose Clinton, 57% said she would likely reduce the debt by implementing a student loan forgiveness program.
Now, if loan forgiveness is really going to become a priority, young people may have to do more to make their voices heard: As Mic has previously reported, 69% of eligible baby boomers vote, compared with just 46% of eligible millennials.