Charli XCX, Lil Yachty's "After the Afterparty" bubblegum zombie fest is A+ Halloween fare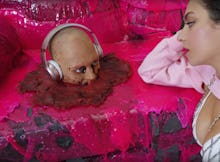 Music videos are usually the place pop stars go to show off their sexiest dance moves and their latest iconic outfits in attempts to turn all eyes toward them. Charli XCX, on the other hand, has consistently used her visuals to make her audiences squirm. 
Her videos are hilariously ugly and deliciously uncomfortable — and her latest, "After the Afterparty" featuring Lil Yachty, is no exception. 
The unlikely pair stumble and stunt through a post-party, post-apocalyptic world where all the young partygoers of the world have been turned into colorful zombies on fleek. They tear bubblegum flesh from each other's necks and crawl over one another in a foam-filled room. One unfortunate soul that somehow managed to get a beer can lodged in his skull pours its contents into the yawning maw of another zombie. 
It's lit, and perhaps the only new halloween video music video you'll need to watch this year.
Charli XCX thanked everyone involved in making the video in an Instagram post Sunday, revealing that A.G. Cook and Sophie had a hand in the "spooky banger." 
Both producers, two of the more recognizable names in the PC Music world of hyperkinetic pop, have worked on Charli's music before, helping craft her February EP Vroom Vroom. Lil Yachty, however, is a new addition to Charli XCX's universe — but one that makes a lot sense. The rapper has been on a similar mission to unseat hip-hop conventions with his coy a-musical croon. 
The artists seem mutual fans of each other's quirks.
"I kind of hit him up on the internet, and he hit me back and said, 'I love your album Sucker!'" Charli told Zane Lowe in an interview Friday. "I was like, 'Whoa, that's cool' — 'cus I like, hate that album now, so it's cool that he likes it."
Watch the delightfully gory "After the Afterparty" music video below.