Kid Cudi's "Surfin'" video is a who's who in alt hip-hop — a scene he redefined entirely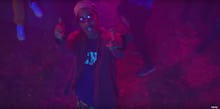 Through all of Kid Cudi's struggles this past month, one thing has shone through bright and clear — there's a lot of love for Cudder in the hip-hop world. Ever since admitting he was battling depression and would be checking himself into rehab to get help, fans and artists alike have swarmed to offer Cudi their support. 
A strong contingent of that family appears right beside him in the artist's latest visual for one of his latest singles, "Surfin'." The video features Cudi and his crew dancing in a neon wonderland. It plays like a who's who in alternative hip-hop. A$AP Rocky, A$AP Nast, Jaden Smith, Willow Smith, King Chip and Hit-Boy are among the faces we can make out through the psychedelic haze. 
They're all artists who operate in that psuedo-psychedelic, introspective brand of hip-hop Cudi helped pioneer and popularize. They're all smiles and good times when they're with big brother.
Kanye West may have said it right when responding to Kid Cudi's apparent Twitter rant diss, in which the man on the moon called out West for "talkin' top 5" while having "30 people write songs for them." Yeezus told a Houston crowd that Cudi was easily "the most influential artist of the past 10 years." 
Cudder's stamp can be heard across the genre. He was instrumental in helping craft West's 808s and Heartbreak, which brought gloomy, autotuned rap to the radio well before it became the No. 1 "It" sound in the genre. Right from his 2008 debut, he wrenched open rap's bag of topics to include a much wider range of narratives, encouraging artists to feel far more comfortable rapping about depression and drug use from an addiction standpoint rather than a necessary accessory to the bottle service lifestyle. Since, Kendrick Lamar, Earl Sweatshirt, Danny Brown and Childish Gambino have all released career-defining albums centered upon these themes. From certain angles they feel like recasts of the A Kid Named Cudi's confessional mold, retooled to fit new experiences and styles.
A$AP Rocky put it in a much more blunt fashion while defending Kid Cudi in his beef with Lupe Fiasco in 2015. "CUDI IS FATHER TO MOST U NIGGAS LOW KEY, PAY RESPECT," he tweeted.
Cudi makes it clear where he feels he stands in hip-hop in his "Surfin'" lyrics, which he describes as being an "enema" for an industry "so full of shit."
"I ain't ridin' no waves," he sings. "Too busy makin' my own waves, baby."
Watch the full video below and look forward to the good times to come, when Cudi's out of rehab and Passion, Pain & Demon Slayin' is in fans' hands.