Is Clinton or Trump going to win the election? Here are the states to watch.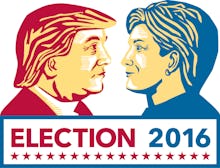 As is the case in most U.S. presidential elections, it's likely the decision will ultimately be determined by just a handful of states. Since 2000, 40 out of 50 states have consistently voted for the same party, so it comes down to a small number of swing states. 
Swing states to watch on Nov. 8
Politico has determined that, in this presidential election, there are actually more states that are up for grabs than usual. They are as follows:
1. Colorado
However, in recent days, RealClearPolitics — which is an aggregate of most major polls — has added New Mexico and Maine to that list. 
While Democratic candidate Hillary Clinton tends to have a lead in national polls, RealClearPolitics' average shows Republican candidate Donald Trump has a marginal lead in Ohio, Florida, Georgia, Nevada and Arizona:
But their respective leads aren't big enough for RealClearPolitics to be able to call an outcome for the states in their assessment of the electoral college. 
Swing states "too close to call"
With 13 states too close to call — Nevada, Arizona, Colorado, New Mexico, Iowa, Ohio, Michigan, Pennsylvania, North Carolina, Georgia, Florida, New Hampshire, Maine — there are 158 electoral votes up for grabs, a massive portion of the 270 electoral votes a candidate needs to claim victory.
And with just three days left of campaigning, both the Trump and Clinton camps, perhaps unsurprisingly, continue to give battleground states more attention than the rest of them.