These women dressed as Native American #NoDAPL protesters for Halloween, and it was awful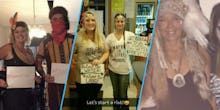 While Native Americans at the Standing Rock Sioux Reservation in North Dakota are being pelted with rubber bullets while protesting construction on the Dakota Access oil pipeline, at least four people decided it was a good idea to mock them with Halloween costumes.
Adrienne Keene, a writer and professor specializing in Native American education and representation, tweeted photos of what appear to be two white women (and one man) in North Dakota wearing headdresses and indigenous jewelry while holding signs with the hashtag "NoDAPL."
In one of the photos, a woman is holding a sign that reads, "I godda job. I'm a waterpertecter," poking fun at the Native Americans and their allies — who have dubbed themselves "protectors" rather than protesters — demonstrating against the 1,172-mile pipeline, which, if completed, would transport over 470,000 barrels of oil per day through sacred indigenous land.
It's unclear whether the celebrants actually disagree with the Standing Rock movement on a political level. But even if they did, mocking marginalized people with racist Halloween costumes won't likely attract many new allies.