A white man assaulted a black teen running a 5K because he was certain he was a mugger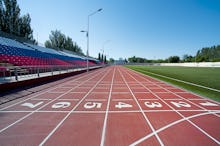 A middle-aged white man attacked a 15-year-old black boy with autism while the teen was running a 5K race. Now, a judge is preventing his family from pressing charges.
On Oct. 14, Chase Coleman was participating in a cross-country run in Rochester, New York, when he accidentally strayed from the race route and onto a road.
The man got out of his car yelling, "Get out of here," and shoved Coleman, who is nearly non-verbal, to the ground, according to CBS News.
The man, later identified by police as 57-year-old Martin MacDonald, told officers he believed Coleman was going to mug his wife, who was sitting in the passenger seat, the Washington Post reported. 
"I said, impossible," Clarise Coleman, Chase's mother, told the Post. "That's a lie. Chase don't even know how to defend himself. ... He can barely ride a bike." 
Clarise said she felt the incident was racially-motivated. 
"[Chase] was in a uniform," she said. "He had a number pinned to him. How did you think that he was out trolling to steal your car? ... You can't tell me that it wasn't because my son wasn't black. There were Asian kids, there were Caucasian kids. But you picked the black kid to say, 'That crossed my mind?'"
Adding insult to injury, on Oct. 21, Rochester City Court Judge Caroline Morrison denied the Colemans' request to press charges against MacDonald for second-degree harassment.  
But when Syracuse City Councilor Susan Boyle caught wind of the story, she was incensed and wrote a letter to the Monroe County District Attorney's Office insisting they provide a justification for denying the opportunity to press charges.