Archived 'Stranger Things' newscast shows how the town reacted to Barb's disappearance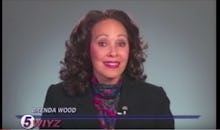 Stranger Things is a smash hit for Netflix, but one issue that plagues the series is its treatment of Barb.
(Editor's note: Spoilers ahead for the first season of Stranger Things.)
Viewers were given the impression that nobody in the town — including her BFF, Nancy — cared enough about her disappearance. It's even more troubling when her mangled corpse is later found in the Upside Down.  
But perhaps we, the audience, misjudged the town's reaction. On Halloween, Netflix released archived footage of a faux-newscast from real-life anchor Brenda Wood. The broadcast, set in the fictitious Hawkins, Indiana, addresses Barb's fate — as well as her impeccable style. 
"When asked to describe Barbara, her friends and peers praised her as someone who was loyal to a fault to Nancy," Wood says. "The kind of girl who notices if you're wearing a new bra, and can really rock a pair of mom jeans — or, as we call them now, jeans." 
Wood's second segment is headlined, "Are Youths Turning to Crime?" — a nod to Eleven stealing Eggo waffles from a local grocery store. Though perhaps the anchor was a bit harsh in calling her a "vagrant juvenile." She's kind of been through a lot, what with all that government experimentation and interdimensional traveling. And Eggos are her favorite snack! 
While this was a fun callback to one of the biggest pop culture phenomenons of the summer, we're still anxiously waiting for Stranger Things' second season in 2017. 
Watch the faux-newscast below.