"There is no case here": How Clinton is trying to turn the FBI email case into a positive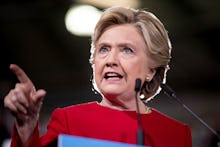 KENT, Ohio — Hillary Clinton shrugged off the FBI's discovery of thousands of new emails on a computer linked to one of her aides, as her campaign ramped up its counterattack on FBI Director James Comey.
Campaigning at Kent State University with just eight days to go until the election, Clinton began by addressing the controversy that has rocked the presidential race in its closing days and given Donald Trump the opportunity to attack Clinton over her emails yet again.
"I'm sure a lot of you may be asking what this new email story is about, and why in the world the FBI would decide to jump into an election with no evidence of any wrongdoing with just days to go," Clinton said before a crowd of about 2,500 people. "That's a good question."
Clinton's combative approach toward the FBI director underscores her campaign's belief that the story could help her rally support in the race's closing days, with polls suggesting the story has yet to erase her edge and campaign officials maintaining it will instead galvanize volunteers and help carry her over the finish line on Nov. 8.
Clinton vs. the FBI: On Sunday, the FBI obtained a warrant to search for emails related to Clinton's use of a private email server that might be stored on a computer linked to longtime aide Huma Abedin. The emails were found during an investigation into Abedin's estranged husband, Anthony Weiner, who is under scrutiny for allegedly sexting a teenager in North Carolina.
Abedin, one of Clinton's closest confidantes and longest-serving staffers, hasn't traveled with the candidate since Friday, when news of Comey's letter to Congress broke. She was not traveling with the campaign on Monday.
"Now they apparently want to look at emails of one of my staffers, and by all means they should look at them," Clinton said. "And I am sure they will reach the same conclusion they did when they looked at my emails for the last year. There is no case here."
Clinton's assurance that nothing would come of the renewed investigation goes further than statements made by members of her campaign, who have avoided commenting on the contents of the new emails until Comey releases more information.
After initially struggling over how to combat Comey's revelation on Friday, the Clinton campaign fought back aggressively over the weekend and on Monday. An army of high-profile surrogates, including campaign manager Robby Mook and chairman John Podesta, called on the FBI to release more information about what's in the new trove of emails.
Late Sunday, former Attorney General Eric Holder and nearly 100 former federal prosecutors penned an open letter to Comey, calling the director's actions "troubling" and a threat to "the public's faith in the integrity of our legal process."
A new race? The impact of Comey's decision to go public with the existence of new emails remains to be seen, but polling released over the weekend and on Monday suggests few voters are changing their vote due to the news. An ABC News/Washington Post poll released Sunday found that 63% of voters said the FBI's announcement wouldn't change their opinion of the race. Those who said it would were overwhelmingly Republicans.
The Clinton campaign argues Comey's letter could in fact mobilize Democrats who were in danger of becoming complacent to turnout and work harder at higher rates than they otherwise would have. Mook, speaking to reporters on Saturday, said the story "has created an urgency and intensity among our volunteers and activists."
"Our volunteers are rallying behind Hillary," Mook added.
Evidence of that happening is anecdotal, at least for now. Asked for signs that enthusiasm for Clinton has increased since Comey's move, a campaign official in Florida pointed to the size of crowds at a canvassing kick-off event and a concert by Jennifer Lopez on Saturday, both of which Clinton attended. A campaign staffer in Michigan, where Trump stumped on Monday, likewise pointed to attendance at recent rallies by Chelsea Clinton and vice presidential nominee Sen. Tim Kaine, saying that "folks are out knocking on doors, phone-banking and turning out to volunteer in droves."
For weeks, Clinton has told supporters at her rallies that their votes are important, imploring those in swing states like Florida, Ohio and North Carolina to continue to volunteer and organize even as national polls showed her with a steady lead.
"Human nature says that people could think their work isn't as needed," communications director Jennifer Palmieri told reporters before a rally in Florida last week. "They don't need to make that extra phone call, or maybe their vote doesn't count as much."
Now, following the upheaval over the weekend and a slight tightening in the polls that preceded the FBI disclosure, Clinton's focus on boosting turnout has taken on new urgency. Ironically, some Clinton allies are relying on a seemingly Trumpian argument that Comey is nefariously pulling levers of power to influence the outcome of the election.
"He's an idiot": Sen. Harry Reid, the Democratic leader in the Senate, is the most prominent example of Democrats inferring political motives behind Comey's disclosure. In a scathing letter sent to Comey on Sunday, Reid said the FBI director might have broken the law with his letter to Congress.
The campaign itself hasn't gone as far in questioning Comey's motives, instead demanding he release more information.
But that hasn't stopped Clinton's supporters from railing against the FBI director. At the event at Kent State on Monday, Clinton voters blasted Comey and accused him of trying to tip the scales.
Leslie Domres, a retired special education teacher from nearby Rootstown, Ohio, said the FBI investigation is "ridiculous."
"They're trying to do a smokescreen because of [Trump's] sexism and all that stuff," said Domres, wearing a pink T-shirt reading, "A woman's place is in the White House."
Domres did not hold Comey, who in July declined to recommend charges against Clinton, in high regard.
"He's an idiot," she said. "He's just looking out for himself. Everybody's looking out for themselves. And [Republicans] think he screwed up before, so he wants to be nice to the Republicans also."
Jim Ensign, a 70-year-old retired manufacturer from Norwalk, Ohio, said he thought the new revelations "looked like a deliberate attack" on Clinton that "had a political undertone."
"What seems to be happening is it gives the other side a chance to wag their finger and blow it up into something huge," Ensign continued. "Hillary's supporters will read about it and figure it out and realize there's really no substance to it. It's just him covering his own tail."