Checking in at Standing Rock on Facebook isn't helpful — here's what you can do instead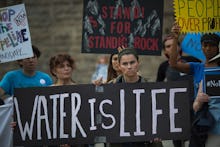 Clicking a few buttons on Facebook just isn't enough to make an impact. 
On Monday, a viral Facebook post was passed around that asked people to check into Standing Rock Indian Reservation in Cannon Ball, North Dakota. The idea was to "confuse" law enforcement who supposedly keep tabs on the Dakota Access Pipeline protests by trolling Facebook for protesters. 
While the protesters in North Dakota have said they appreciate the show of support on Facebook, there's no evidence anyone is helping them by checking in on the social network. 
"The Morton County Sheriff's Department is not and does not follow Facebook check-ins for the protest camp or any location," the Morton County Sheriff's Department said in an email to Mic. "This claim/rumor is absolutely false."
Sacred Stone Camp emailed the following statement to Mic:
There is no solid line between "organizers" and others — this is a movement, not an organization, There are many camps and points of contact, we can only verify that the "Facebook Check In" action did not originate from the Sacred Stone Camp FB page. We support the tactic, and think it is a great way to express solidarity.
What is the Dakota Access Pipeline?
The Dakota Access Pipeline is a plan to build an oil pipeline under the Missouri River that could contaminate the water supply for many of the area's residents, including the Standing Rock Sioux Tribe. 
How can you support the Dakota Access Pipeline?
If you want to do something about the plan and/or help the protesters, there are ways to show your support that will have a more significant impact than checking in on Facebook. 
1. Sign petitions
If you're not into spending money, or even stepping away from your computer, there are plenty of online petitions you can sign. One of the biggest petitions is called "Stop the Dakota Access Pipeline" and has more than 150,000 signatures on Change.org.
There's also a White House petition with more than 294,000 signatures called "Stop construction of the Dakota Access Pipeline which endangers the water supply to Native American reservations."
2. Donate to protesters
If you can spare a few dollars or a few items, you can donate to the people protesting in North Dakota. There's a GoFundMe account for the Sacred Stone Camp from the Standing Rock Sioux Tribe that has garnered more than $1.15 million. Sacred Stone also has a specific fund for its legal defense. This fund will be "used for the legal support for those involved in direct action" and has raised more than $1 million so far. 
If you'd rather send supplies, the Sacred Stone Camp has an Amazon wish list and a list of supply needs on its website. 
3. Donate to the Standing Rock Sioux Tribe
The Native American tribe at the center of the protests is a good place to send money and support. The tribe will use donations (which can be made via check or PayPal) for "legal, sanitary and emergency purposes," according to its website.  
4. Go out and join the protests
"Young warriors" are listed under the Sacred Stone Camp's supply needs. If you'd like to join in, you can head out to the Sacred Stone Camp in Cannon Ball, North Dakota. The organization's site has directions to the camp. 
"If you have a truck or other vehicle that can haul supplies or wood and are willing to use it to help, please let us know," the site reads. "Camp life accommodates many skill sets, from cooking and chopping wood to media and legal assistance." 
But watch out: Protesting is not without risks 
More than 140 people have been arrested in the protests so far, and if you're joining in, Sacred Stones Camp suggests you sign its Pledge of Resistance, which asks you to specify if you're willing to be arrested for the cause or not. One U.N. group is investigating allegations that law enforcement inhumanely locking protesters in cages. 
Nov. 1, 2016, 7:55 a.m.: This story has been updated.