Presidential polls Tuesday, Nov. 1: Trump takes 1-point lead over Clinton in tracking poll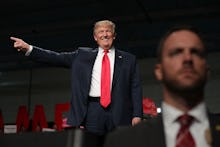 Donald Trump took a 1-point lead over Hillary Clinton in a new ABC/Washington Post tracking poll of the race, capturing 46% to Clinton's 45%, well within the poll's margin of error.
Trump's lead in the survey is the first he's held since the poll was first conducted in June, and comes with just a week to go until Election Day.
Trump's lead is buoyed by increased enthusiasm among his supporters, and decreased enthusiasm from Clinton's, according to the poll.
Still, despite taking a nominal lead in this survey, there are troubling signs for Trump's chances.
First, nearly a quarter of Americans say they have already voted, according to the ABC/Washington Post poll. And among those who have already voted, Clinton holds a 16-point lead, earning 55% to Trump's 39%.
That means Trump has to heavily overperform his current margins in the remaining days of voting to overtake Clinton's lead.
Pollsters who conducted the poll noted that their tracking numbers in the final days of the race haven't always been predictive of the outcome. In 2012, their poll showed Mitt Romney with a one-point lead over Barack Obama, and in 2004, it showed then Sen. John Kerry ahead of President George W. Bush, though Kerry went on to lose by about 3 points.
Also, other tracking polls show Clinton maintaining her lead.
An NBC-SurveyMonkey poll released Monday afternoon showed Clinton with a 6-point national lead, unchanged since FBI Director James Comey announced the bureau was reviewing more emails that could be pertinent to Clinton's use of a private server during her time as secretary of state.
Historically, presidential contests tighten in the final days of the race.
On this same day in 2012, Romney took a narrow lead over Obama in the RealClearPolitics polling average, but he went on to lose to Obama by a roughly 4-point spread.