Beyoncé and Jay Z are black Barbie and Ken for Halloween — and Twitter is loving it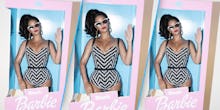 Last night, you might have felt the earth tremble. You might have felt a sense of uneasiness or impending doom because, despite debuting a top-notch Halloween costume over the weekend with her mom and daughter, dressed as rap group Salt-N-Pepa, Beyoncé dropped yet another Halloween costume on us. 
And this time, she's black Barbie. 
In an Instagram posted late Monday night, Beyoncé posed in a black and white zig-zag corset and a high ponytail while standing in a pink box with the words  "Black Barbie" scrawled in typical Barbie curly-q font. 
She even wore the cat-eye sunglasses and heels, typical of the first Barbie, which debuted in 1959. 
And of course, as always, she made it a family affair too. Beyoncé's husband Jay Z, was her black Ken, standing in a black tuxedo inside a box that read "Black collector edition." 
And then there was Blue Ivy, wearing a black leather jacket with "Barbie" written across the back and a pink sequin skirt. In another shot, with Beyoncé and Jay Z out of their boxes, Beyoncé wears a puffy pink coat. 
It's typical at this point for the Knowles-Carter family to go all-out with their Halloween costumes. Last year, the trio were characters from the movie Coming to America. Before that, Beyoncé and Jay were artists Frida Kahlo and Jean-Michel Basquiat. And once, Blue Ivy was Michael Jackson, while Beyoncé was Janet. 
Despite a long history of truly impressive group ensembles though, this one felt special. Maybe it was the vintage flair, or maybe it was Blue Ivy's leather jacket, but Twitter went berserk. 
And fans were particularly excited about the fact that Bey ensured that the word "black" was on her and her husband's packaging. 
So, how in the hell with the Knowles-Carter family top themselves next year? As with anything Bey does, it's safe to assume that we won't know until she wants us to know.