Hillary Clinton's closing argument: Donald Trump is a threat to women and girls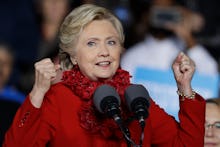 With a week to go until Election Day, Hillary Clinton will lay out her closing argument Tuesday in South Florida, depicting Donald Trump as a threat to women and girls.
In a speech in Dade City, Clinton will rehash Trump's inflammatory rhetoric and alleged actions toward women, according to a Clinton campaign official — including highlighting his 2005 comments in which he bragged about grabbing women "by the pussy."
Clinton will be introduced by former Miss Universe Alicia Machado, whom Trump fat shamed and forced to work out in front of television cameras after she gained weight in the year following her pageant victory.
The Clinton campaign is also releasing an ad to coincide with the event, in which it replays all of the demeaning things Trump has said about women, including the audio from the leaked 2005 tape.
"Anyone who does what he does is unfit to be president," the final screen of the ad reads.
The Clinton campaign official said the ad will run in Arizona, Florida, Iowa, Nevada, New Hampshire, North Carolina, Ohio and Pennsylvania — battleground states Trump will likely need to sweep to have any hope of securing 270 Electoral College votes.
Clinton's closing argument comes as some polls show a tightening race.
Women will be key to the outcome of the election, with Clinton leading among women by a wide margin — setting up what could be a historic gender gap.