Starbucks' green holiday cups may hold a hidden political message, and people are pissed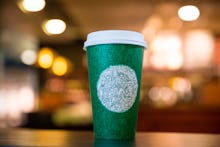 Roses are red, violets are blue, Starbucks holiday cups are ... green?
On Tuesday, Starbucks unveiled its latest seasonal cups — a green paper vessel with a mosaic of people drawn with one single line. It's meant to celebrate "unity," a press release stated.  The iconic Starbucks mermaid is notably absent and there doesn't appear to be any corporate branding on the cups. 
"The green cup and the design represent the connections Starbucks has as a community with its partners (employees) and customers," CEO and chairman Howard Schultz said in the press release. 
But here's where things get not-so-subtly political: 
"During a divisive time in our country, Starbucks wanted to create a symbol of unity as a reminder of our shared values, and the need to be good to each other," Schultz continued. 
In the past, these cups have presented classic holiday designs like Christmas lights, snowflakes and deer and phrases like "pass the cheer." Obvious intentions.
This year's one-line scribble: "Divisive time in our country"? "Symbol of unity"? "Shared values"? Schultz's language reflects rhetoric heard during this election season, the Atlantic reported, noting that Starbucks has taken a page from Chipotle in making a humble food container "a canvas for cultural conversation." 
Schultz endorsed Hillary Clinton in September, and Starbucks frequently serves its coffee with a side of civics. In March 2015, Starbucks had baristas write "race together" on cups and encouraged them to discuss race relations with customers. 
"It's meant to be a symbol of unity, and to encourage us to be good to each other," a Starbucks spokesperson said of the green cups, in an email. The design "represents humanity and connection," they said, neither confirming nor denying that the message is political. 
Last year, Starbucks faced backlash when it removed Christmas doodles from its cups in favor a plain red cup with Starbucks branding, Mic previously reported. 
This year, people are no less outraged by the cup design. Here's what people on Twitter are saying about the "unity" green cups. 
Other people had a good laugh at the controversy. 
Whether you hate or love the new cups, there's a chance the much-talked-about green cups will be replaced after the election is over.  
When asked whether the red cups will make a comeback this year, a Starbucks spokesperson remained vague in an email statement. "The rest of our holiday plans are still under wraps," they said. 
November 2, 2016, 1:20 p.m.: This story has been updated.