Presidential polls in Arizona: Why Clinton is courting voters in this far red state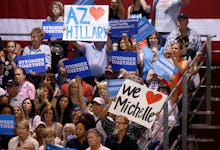 With the election just one week away and national polls showing a quickly tightening race, Democratic nominee Hillary Clinton is fighting harder than ever for control of swing states. But Clinton is also putting work into a state that has a reputation for being solidly red: Arizona. 
Here's why Clinton is devoting her efforts to the Grand Canyon state, and here are her latest poll numbers in Arizona.
Latest polls:
New polls show an extremely close race in Arizona. As of Sunday, CBS News' Battleground Tracker poll showed Clinton down in Arizona, polling at 42% to Donald Trump's 44%. 
These results could indicate a decline in support for Clinton in Arizona. Last week, a Politico poll showed her trailing Trump by only a single percentage point, and at the time, Politico called the race in Arizona "virtually tied." 
The case for Arizona:
Why is Clinton chasing a state that has gone blue in only one presidential election since 1952? As Mic's Stefan Becket previously reported, the Clinton campaign ramped up spending in Arizona less than a month out from election day, pledging more than $2 million in new ads in the state — showing that her campaign thinks it may be possible to pull out a win in Arizona. Michelle Obama and Chelsea Clinton, two of Clinton's most recognizable surrogates, have since traveled there to stump for her.
The Trump campaign was also especially vulnerable in Arizona. As of Oct. 17, it had just five paid staffers from either the campaign or the state and national parties in the state. Trump has held a number of rallies in Arizona, however, and latest polls give him an edge in the state. 
But even if Clinton doesn't win in Arizona, playing the offense in what is usually a red state forces the GOP to spend more in a state it can usually count on.