What happens to President Obama's Twitter in January? Here's where the POTUS' tweets go.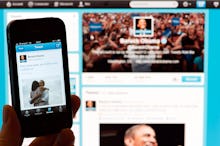 As we enter November, one question remains on everyone's mind: What happens to President Obama's Twitter account?
Okay, maybe there are a couple other questions as well. But this one is still worth exploring.
On Monday, the White House announced a digital transition plan to "pass on the digital history of the Obama administration." It's a unique proposition, as Obama's presidency is truly the first to occur during the age of social media. 
The White House has created a new Twitter account, @POTUS44, which will be maintained by the National Archives and Records Administration as a public archive for Obama's tweets. NARA will also archive other Obama administration accounts, such as @FLOTUS and @VP. 
Meanwhile, the official @POTUS Twitter account will transition to either Hillary Clinton or Donald Trump on Jan. 20, 2017. The account will retain all of its more than 11 million followers, but its timeline will be wiped clean and reset to zero tweets. 
The White House said it plans to take similar measures for Facebook, Instagram, Tumblr, YouTube and Medium. 
"President Obama is the first 'social media president': the first to have @POTUS on Twitter, the first to go live on Facebook from the Oval Office, the first to answer questions from citizens on YouTube, the first to use a filter on Snapchat," Kori Schulman, special assistant to the president and deputy chief digital officer, wrote on the official White House blog.
"The past eight years have left us with tremendous optimism about how future administrations might use these tools to create even more pathways for meaningful civic participation," the post added. "The president has made clear that a smooth transition between administrations is one of his top priorities, and digital is a key component of that effort."
It will be interesting to see how the next president utilizes social media. Who do you want tweeting from the official @POTUS account? Make sure to decide on Nov. 8, Election Day.