Transgender Muslim woman Raina Aliev reportedly hacked to death after her wedding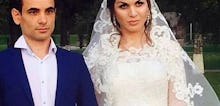 Transgender Muslim woman Raina Aliev was killed in Russia just days after marrying her husband, Viktor, Yahoo News reported. The complete circumstances of her death are unknown, but Aliev's body was hacked into pieces and left virtually unrecognizable.
The horrific incident allegedly took place after Raina Aliev's father, Alimshaikh Aliev, called for his daughter's execution while repeatedly misgendering her in an announcement to a Russian TV station. 
"Let him be killed, I don't want to see him," he said. "Bring him here and kill him in front of my eyes."
Although the exact motivation behind Aliev's death is still under investigation, the U.K. publication Express reported that a Dagestan mufti, a legal expert who interprets Muslim law, told Russian media that being transgender is banned in Islam: "Changing sex is totally forbidden, because it means that a man will be a woman." 
Aliev's family is Chechen and lives in Dagestan, Russia, a Muslim region between the Caspian Sea and Chechnya, according to Gay Star News. After completing her education, Aliev eventually relocated to Moscow where she worked in the nightlife industry. She met her husband in Karachaevo-Cherkessiya, another primarily Muslim region in Russia.
A neighbor told the Russian Dialog news site that Aliev's father issued a "purman," which invited people to kill his child, after discovering that she would be marrying a man who openly embraced her transgender identity.
Mic previously reported that the mutilated and burned body of a prominent LGBTQ activist, Hande Kader, was discovered in Turkey, prompting activists to call for action against the rising trend of transgender violence overseas. And in the United States, at least 22 transgender people have been killed in 2016.
Mic will update this post with more information as news develops.