Patriarchy smasher allegedly sells 20 iPhones gifted by 20 boyfriends to help buy a house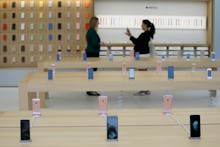 Lusting after a dream pad, but pretty sure you'll never afford a home? You wouldn't be alone, whether you live in the costly United States or in China — where housing prices have also shot up.
Then again, you could always just do what one entrepreneurial young Chinese woman allegedly did: Get your 20 boyfriends to each buy you the latest iPhone, sell the gadgets online and then use all proceeds to cover a down payment on a house.
This tale comes from a viral blog post that was verified by the BBC on Saturday — although a Monday report from BuzzFeed casts doubts on the claims. 
Here's what we know so far.
Last week, a person going by the pseudonym "Proud Qiaoba" posted a story to a popular blogging platform in China about a colleague who successfully lobbied her 20 boyfriends to buy her the latest iPhone. 
According to the story, the woman then sold the phones to a secondhand device resale website called Hui Shou Bao, raising roughly $18,000 in the process. That was allegedly enough money for her to make a down payment on a home in the countryside.
Some on Twitter have called the woman a real-life version of the Joanne the Scammer meme.
BBC verified the story through a spokesperson at the recycling company, and the story has also been widely reported by the Chinese media with a hashtag that translates to "20 cellphones for a house," racking up 13 million hits on Weibo and becoming the top-trending news item in the country.
But the BuzzFeed report suggests this viral story might be staged, since the only real name reported on the record is that of Hui Shou Bao — which is apparently thirsty for PR.
BuzzFeed reports that a recent job listing posted by the tech recycling firm seeks someone adept at "methods of media manipulation" and "passionate about producing internet events."
No small caveat, though as of 1 p.m. Tuesday, BBC appears to be standing by its story. 
While a ratio of 20 boyfriends to a single girlfriend is certainly extreme, it's not unfathomable in a country where women "are beginning to [command] more and more of a premium" in the dating market, explains Dudley Poston, a professor of sociology at Texas A&M University who's studied China's gender imbalance. "It's clearly the girls that are getting the choice," he said. 
That's in part because of the legacy of China's now-repealed one-child policy and a cultural preference for boys, Poston explained. He said that as a consequence, some 30 to 40 million Chinese bachelors will never be able to find wives.
Might that disparity explain why a man might fork over cash for the latest iPhone — on command — along with 19 other comrades in bachelorhood? 
Unlikely, if BuzzFeed got their story right. But not unthinkable.
Correction: Nov. 2, 2016