'The Daily Show' imagines a dystopian Trump presidency where John Oliver gets arrested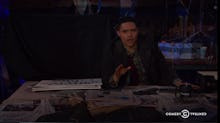 The Daily Show made the scariest Halloween-themed video of 2016 by imagining what four years of a Donald Trump presidency would look like. The segment flashes images of a crumbling America before Trevor Noah begins a new monologue for the first time in what has been years, a few days ahead of the 2020 election.  
"I've come out of hiding to broadcast one more episode of The Daily Show," Noah says. "I know I'm taking a risk. I'm risking my life and yours by broadcasting this show. But with the election just days away, it's a risk worth taking, people."
The Daily Show's pristine studio is in shambles, the result of Trump cancelling his show, as well as other media outlets. CNN, among others, no longer exists: Trump News Network is the main source of news in 2020. John Oliver — one of Trump's biggest critics in the media — is arrested during one of his Last Week Tonight segments investigating the egg industry (which seems very on-brand for his show). 
Trump's promises haven't yielded any results, either. The wall is technically being constructed — and Trump is leaving an invoice for the bill to Mexico — but it's four feet tall and even its workers (such as correspondent Jordan Klepper) are dissuaded. Elsewhere, automated stop-and-frisk robotic hands get implemented in cities; Hillary Clinton is locked up in "super Guantanamo" along with former vice president Mike Pence, for unknown reasons; and Elon Musk helped Joe Biden and the Obamas leave Earth to travel to Mars. 
The national anthem, meanwhile, is now a 20-minute long ballad praising Trump, which Noah provides a snippet of. 
The only hope, Noah echoes, is voting in 2020 for a better candidate. This plea, of course, is particularly resonant ahead of the actual election in 2016, where Trump could actually become president. But instead of Clinton, the best shot in this dystopian future appears to be an Elizabeth Warren-led uprising. 
"Even if the candidate you like isn't in this election, it doesn't mean you shouldn't vote," Noah explains. "Hell, vote for anyone. You could even vote for the Woman of the Woods, Elizabeth Warren. Yeah, I know her policies might raise taxes — but at least she has a plan." 
Watch The Daily Show's chilling imagining of a Trump presidency here.