The KKK dished out white Life Savers candy to voters, sending a pretty clear message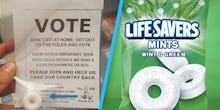 First there was Donald Trump Jr.'s Skittles analogy for refugees. Then came his dad's crude comments about sexual assault and Tic Tacs. Now, mint Life Savers are the latest confection to go under a strange politicized treatment. 
Candy just can't catch a break this election season.
On Saturday night, Ku Klux Klan supporters distributed homespun flyers to encourage voting in and around the Sabine, Louisiana area, according to a blog post by Louisiana blogger Lamar White Jr. A single white Life Saver candy accompanied the typed mailer.
The whole message reads:
"Vote. Don't sit at home, get out to the poles and vote. Every vote is important, your vote could decide if we have a country anymore or not. Please join and help us take our country back."
Many flyers were tucked under parked cars' windshield wipers, White noted on his blog, and they include a 24-hour hotline to the Loyal White Knights of KKK. The number leads callers to an answering machine with a prerecorded message that opens, "You've reached the Loyal White Knights. It's about time we put an end to this massive third world immigration into our white homelands."
Despite the flyer's accidental misspelling of "polls," its message reads as clear as day: The language directly mirrors wording Trump has used in past speeches, including phrases like "take our country back."
The inclusion of the minty candy only heightens the already explicit memo. The little treat is not meant to promote fresh breath, but is, more likely, a play on the word "life saver" and the candy's particular color. Folks on Twitter speculate the same:
Timing, as they say, is everything. The candies and flyers were dished out the weekend before the early voting period closed in Louisiana (Nov. 1), and days before David Duke, the former Imperial Wizard of the KKK, among other things, plans to participate in a televised debate at New Orleans' Dillard University, a historically black college, on Wednesday night.  Duke, who announced his support for Trump early on, is running for state Senate.
It's unlikely a little bit of sugar will sway voters one way, as freebies don't usually equate to loyalty, Psychology Today wrote.
But this year's undecided voters (there are currently 9 million of them in the U.S., according to Reuters), are a seriously indifferent bunch who are "not very interested in politics," the International Business Times reported. 
Yes, indifference is the name of the game for these people: "They are also less partisan, less interested in the news and don't have strong opinions on the issues dominating the election cycle," International Business Times wrote. "In fact, only 42% of undecided voters are interested in the 2016 race." 
Wrigley, the company that owns Life Savers, did not immediately respond to Mic's request for comment. 
If a Life Saver does end up being the breaking point for the undecided, well, in the words of Trump himself, "Sad!"