Bill Cosby's lawyers ask judge to keep testimony from Cosby's other victims out of trial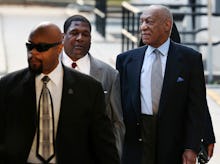 If 13 of the women who have accused Bill Cosby of drugging and sexually assaulting them were to take the stand at his upcoming trial, it might paint the picture of an incriminating behavioral pattern that would work against Cosby in court. 
That's exactly why prosecutors have asked Montgomery County Court of Common Pleas Judge Steven O'Neill to let the alleged victims testify, and exactly why Cosby's lawyers tried Tuesday to shut them down, Reuters reported. 
While prosecutors typically aren't allowed to address a defendant's former transgressions during a trial, attorneys for Andrea Constand — who accused the 79-year-old comedian of drugging and sexually assaulting her at his home in 2004 — are hoping to prove that Cosby had an M.O. That's really the only reason a judge would let them call as witnesses people who weren't directly involved in Constand's case.
In a July 2015 New York magazine article, 35 of Cosby's accusers, some of whom have joined Constand's case, shared their stories of being targeted by the disgraced comedian. A theme quickly emerged from the stories: Cosby invites a woman over and plies her with a drink, after which the woman feels woozy, passes out and wakes up later without any memory of what happened. 
Cosby faces three felony counts of aggravated indecent assault for allegedly having given Constand three unlabeled blue pills that left her semiconscious while he violated her. Constand originally filed a lawsuit against him in 2005, which she and Cosby settled out of court. Police reopened her case against him in 2015, as suspiciously similar accusations against the comedian came rolling in. 
In a September hearing, Constand's lawyers pushed for the inclusion of testimony from 13 women corroborating Constand's version of events. Montgomery County District Attorney Kevin Steele filed a motion in which he said that their accounts would point toward "a common plan, scheme or design" on Cosby's part. 
"An individual who, over the course of decades, intentionally intoxicates women in a signature fashion with the intention of sexually assaulting them cannot also be mistaken about whether or not those women are consenting to the sexual abuse," he wrote in his motion. "And that is so because the answer is clear: They are not."
Prosecutors are also asking Judge O'Neill to admit Cosby's testimony from a 2005 deposition in which he admitted that he gave Quaaludes to women with whom he wanted to have sex, Reuters reported. 
Cosby's attorneys have made a number of attempts to keep evidence out of court, most recently arguing that their client's blindness means he cannot adequately defend himself. They stressed that he wouldn't be able to see the women accusing him and wouldn't be able to say whether or not he'd even met them. 
The trial is scheduled to begin in June. Should Cosby be found guilty, he faces up to 10 years in prison.