The most important ballot initiatives to watch on voting day 2016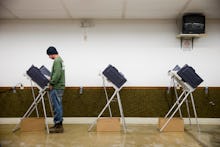 If the 2016 presidential election has felt like the Hillary Clinton and Donald Trump show, it's for good reason. Since the nominees announced their respective campaigns more than a year ago, the mainstream media has been saturated with news of email scandals, dubious tax returns, lewd comments, sexual assault allegations and, oh yeah — emails again.
With the unrelenting turmoil of the presidential race, many Americans are feeling fatigued and disillusioned, perhaps even feeling unmoved to vote at all on Nov. 8. But it's important to remember that electing a new president is only one of many things for which voters will cast their ballots on Election Day. Across the country, voters will make crucial calls on a slew of ballot initiatives ranging from legalizing marijuana to raising the state minimum wage. 
So, if just for a moment, let's take a break from Clinton and Trump:
States voting to legalize marijuana
A total of nine states will vote on some kind of marijuana-related initiative, be it reforming the current laws surrounding the already-legalized substance or decriminalizing it for the first time.
According to the Weed Blog, North Dakota, Florida, Arkansas and Montana are voting on medical marijuana. The 2016 election marks the second consecutive election cycle medical marijuana has been on the ballot for Florida, while Montana faces the unique circumstance of having legalized medical marijuana in 2004, but with restrictions in place that made it impossible to take effect. 
Voters in California, Nevada, Maine, Arizona and Massachusetts will decide whether to legalize recreational marijuana.
Ballot initiatives to raise the state minimum wage
Colorado, Maine and Arizona voters will all see initiatives on their ballots to raise the minimum wage up to $12 by 2020, according to Politico. As it stands, Colorado's minimum wage is $8.31, Maine's, $7.50 and Arizona's, $8.05 — all above the federal standard of $7.25. 
Politico reported that if these initiatives pass, a total of 14 states will have measures in place to gradually increase their minimum wage, with eight others planning to adjust the minimum wage to reflect rising costs of living.
California will decide whether porn actors should be required to wear condoms
California voters are faced with making a call on a contentious issue affecting the porn industry: whether porn actors should be legally required to wear condoms.
As the Atlantic explained on Sunday, if passed, the initiative would give residents the power to file complaints with California's Division of Occupational Safety and Health if they see an actor not wearing a condom in a porn video. If the agency doesn't investigate the alleged violation, a resident can go as far as bringing a civil action suit against anyone involved in the making of the video and can receive a share of the fine the producers would be required to pay to the state.
Colorado will vote on dying with dignity
Colorado will join Washington, Oregon, California and Vermont as the only states in the U.S. that allow for dying with dignity if residents vote yes to an initiative permitting doctors to write "life-ending prescriptions" for the terminally ill, according to the Denver Post. 
The law would only be available to adults 18 or older, and two doctors must both agree that the patient has six months or less to live and is mentally sound enough to make the decision. A doctor would then write a prescription for secobarbital that can later be self-administered.