Is 'Civ 6' coming to Xbox One and PlayStation 4? It's not likely — and here's why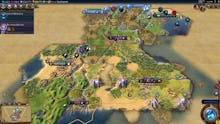 Now that Civ 6 has been met with critical acclaim and embraced by the Civilization fan community on PC, Civ fans on consoles must be feeling left out. Will Civ 6 be released on the PlayStation 4 and Xbox One?
The answer is currently "no," and we've known this since Aug. 4, from the mouth of game developer Sarah Darney, an associate producer at Firaxis Games for Sid Meier's Civilization VI, as reported by Stevivor.
"We don't have plans to release Civilization 6 on consoles at this time," Darney told Stevivor. "As a studio, we're very proud of the games we've made that have succeeded on console, but we feel that the PC is the platform where Civilization 6 fits the best."
Sure, OK. But... if XCOM 2 can work for consoles, why can't Civ 6?
As Stevivor noted in the story, Firaxis Games has similarly dodged questions about whether or not XCOM 2, first released on PC, would ever see the light of day on consoles. Given that XCOM 1 was a PC-first release that moved to consoles, it seemed likely that XCOM 2 would follow suit.
With Civilization, however, the question is more complicated. XCOM is a much simpler game comparatively, in terms of UI design and complexity of potential choices. Since XCOM is simpler it also lends itself to simplified input devices like control pads, versus the mouse and keyboard on a PC.
But when Firaxis decided to create a version of Civ for smart devices that also made its way onto the PlayStation 3 and Xbox 360, Civ players found a vastly different game from contemporary PC versions of Civilization.
It was called Civilization Revolution.
Civ Revolution showed that Civ games on consoles had to lose complexity.
Civilization Revolution simplified the basic Civilization formula tremendously. The same, basic underlying architectures were still there — cities, armies, production of culture and science, etc. — but with far fewer options, and very little nuance of choice.
Civ Revolution was generally well-accepted, but a Civilization purist could fairly argue that it did not live up to the Civilization series' reputation for complexity and depth of play. 
The lesson of Civ Revolution for console players: Releasing Civ 6 on the PlayStation 4 or Xbox One might not be possible.
A translation of Civ 6 from PC to simpler hardware could change the game so much that console gamers would not, in actuality, get a console version of the game. They would effectively get another game entirely.
If you're perfectly happy with Civ 6 on PC, check out Mic's guides on beginners' steps and city planning, and how to choose the best civs for military or religious victories. Also check out the awesome UI mods already available on PC.