'The 100' season 4: Release date, plot details and more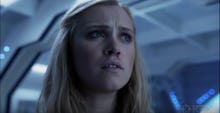 The 100, the CW's hit dystopian fantasy series, didn't have much new footage to share at San Diego Comic Con back in July, but what they showed was quite monumental: The Grounder city of Polis is about to be enveloped by a radioactive cloud. So season four is shaping up to be pleasant. 
This isn't exactly a surprise for fans of the show — it's a grim narrative, which saw the tragic and controversial death of fan favorite Lexa (Alycia Debnam-Carey) in season three. But for any viewers hoping to see Lexa return in some form for season four, series creator Jason Rothenberg has already dispelled those rumors. 
"The City of Light is gone, the flame exists, and all the minds of the commanders are in the flame," Rosenberg said at Comic Con, per Variety. "The finale was designed from day one ... we always knew Lexa was coming back in the finale, we always knew there was going to be this triumphant, emotional return, but it was also designed as a finale. So Lexa's gone, she's not coming back to the show, but ultimately the flame is an important thing, it's a political artifact." 
The rest of season four is a bit murky, without an official release date set from the CW — though based on previous seasons, it's expected to have a premiere in the first quarter of 2017, according to Den of Geek. 
What we can presume, based on teases from members of the production and cast, is a bloody season full of confrontation. To stoke the fire further, here are some ominous tweets from one of the show's executive producers, Aaron Ginsburg, and The 100 writer's room account to hold you over until next year.
Until then, you can catch up with season three of The 100 when it hits Netflix Nov. 16.